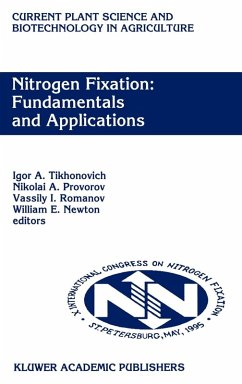 Produktdetails
Current Plant Science and Biotechnology in Agriculture 27
Verlag: Springer Netherlands
1995.
Seitenzahl: 824
Erscheinungstermin: Oktober 1995
Englisch
Abmessung: 234mm x 156mm x 44mm
Gewicht: 1575g
ISBN-13: 9780792337072
ISBN-10: 0792337077
Artikelnr.: 24541584
Section 1: Introductory and overview lectures. Section 2: Chemistry and biochemistry of nitrogenases. Section 3: Regulation of nitrogen fixation. Section 4: Signalling processes in plant-microbe interactions. Section 5: Symbiotically essential bacterial genes and dynamics of Rhizobium genome. Section 6: Plant responses in symbiosis. Section 7: Energetics of nitrogen-fixing systems. Integration of carbon, nitrogen and oxygen metabolism. Section 8: Ecology and agricultural applications of nitrogen-fixing systems. Round table discussion. Section 9: Round table discussion on urgent issues. Author index.
` ... the text is unusually crisp and clear, making it exceptionally readable ... a valuable resource ... will be a good point to begin exploring the entire topic ... I highly recommend this book as a valuable resource for any research library and for the serious researcher in nitrogen fixation. In my opinion, it is the type of book that one would go back to and always be able to discover something new.'
Soil Science, 162:2 (1997)
` ... the text is unusually crisp and clear, making it exceptionally readable ... a valuable resource ... will be a good point to begin exploring the entire topic ... I highly recommend this book as a valuable resource for any research library and for the serious researcher in nitrogen fixation. In my opinion, it is the type of book that one would go back to and always be able to discover something new.'
Soil Science, 162:2 (1997)