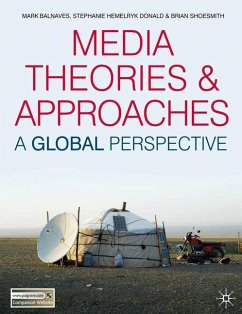 Produktdetails
2008
Seitenzahl: 360
Erscheinungstermin: 24. November 2008
Englisch
Abmessung: 246mm x 189mm x 19mm
Gewicht: 694g
ISBN-13: 9780230551626
ISBN-10: 0230551629
Artikelnr.: 23302788
PART I: CONVERGENCES Introduction.
Technologizing the World.
A Global View.
PART II: THEORIES Classics in Media and Effects.
Classics in Media and Ideology.
Classics in Reasoning About Information and its Ownership.
PART III: CONTENT, AUDIENCES AND EFFECTS Information Warfare and Modern Propaganda.
Transforming Cultures.
Brand China and Bollywood India.
PART IV: STRUCTURES AND ORGANISATION Governance and Digital Identities.
Interactive Media and News.
Media Economics.
Games.
Media Research.
Conclusion.