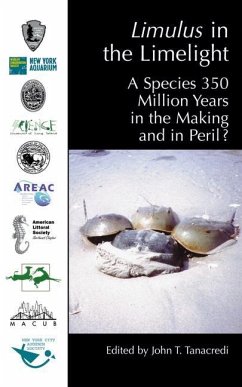 Andere Kunden interessierten sich
auch
für
Limulus in the Limelight: A Species 350 Million Years in the Making and in Peril? contains 14 chapters covering the horseshoe crab's biology, ecology and evolutionary development. The book is a result of three mini-conferences held between 1996 and 2000 celebrating the populations in NY harbor. This book exposes the impacts of over fishing on this species; clarifies the future research agenda for the species worldwide and emphasizes the need for conservation of this fascinating creature's estuaries/ocean habitats.
Biologists, ecologists, science educators, and conservationists will welcome this book because it is aimed at the preservation of Limulus, not only for its pharmacological interest but for the mystery related to its longevity. Limulus is a unique animal which has provided numerous uses for man over the years, from fertilizer to bait to medical research. However, if this species is not protected soon, it will be lost for the future.
Produktdetails
Verlag: Springer / Springer, Berlin
Artikelnr. des Verlages: 978-0-306-46681-6
2001
Seitenzahl: 196
Erscheinungstermin: 31. Oktober 2001
Englisch
Abmessung: 241mm x 160mm x 17mm
Gewicht: 497g
ISBN-13: 9780306466816
ISBN-10: 0306466813
Artikelnr.: 21780659
Introduction: Limulus in the Limelight; S.A. Earle. Part I: Local Species with Global Implications. 1. Horseshoe Crabs Imperiled? The Fate of a Species 350 Million Years In the Making; J.T. Tanacredi. Part II: Biology and Evolution. 2. Two Perspectives: Horseshoe Crabs During 420 Million Years Worldwide, and the Past 150 Years in Delaware Bay; C.N. Shuster Jr. 3. The Conservation of Horseshoe Crabs: What Can We Learn From The Japanese Experience? M.L. Botton. 4. A Unique Medical Product, LAL from the Horseshoe Crab and Monitoring the Delaware Bay Horseshoe Crab Population; B.L. Swan. Part III: Behavior and Diversity Studies. 5. Tracks and Trails; C.N. Shuster, Jr. 6. Biomedical Products from the Horseshoe Crab: Lessons for Sound Resource Management and Conservation; T.J. Novitsky. 7. Issues and Approaches in the Regulation of the Horseshoe Crab Fishery; J. Eagle. 8. The Life History of Horseshoe Crabs; R.E. Loveland. 9. Horseshoe Crab Management and Resource Monitoring in New Jersey, 1993-1998; P.J. Himchak, S.L. Hartley. Part IV: Present Day Investigations. 10. Horseshoe Crab Surveys Using Underwater Videography; C. Kurtzke. 11. Horseshoe Crabs: An Ancient Wonder of New York and a Great Topic for Environmental Education; D. Riepe. 12. Living on Limulus; D. Grant. 13. An Estimate of Population Sizes of Two Horseshoe Crab (Limulus polyphemus) Sites in Jamaica Bay; D.H. Hanna. Part V: A Final Word. 14. Preserving a Living Fossil; N. Eldredge. Author Biographies. Index.