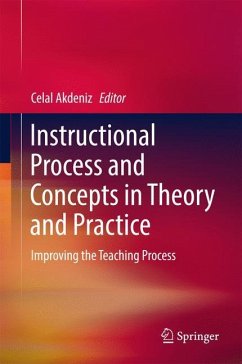 Andere Kunden interessierten sich
auch
für


What is the nature of the instructional process?

What are the classifications of contemporary models and strategies developed within the instructional process?

Which groups yield the most effective methods and techniques, and how can they best be practically implemented?

What are the instructional tactics teachers need to take into consideration, in which groups are they collected, and which tips can help us employ each tactic?
Additionally, readers can adapt the book's ready-to-use sample activities to their own educational settings. Overall, this book offers an enlightening discussion on contemporary practices related to the teaching process, a broad and holistic theoretical framework, and an ideal reference source for all students and scholars who are interested in the educational sciences.
Produktdetails
Verlag: Springer / Springer, Berlin
Artikelnr. des Verlages: 978-981-10-2518-1
1st ed. 2017
Seitenzahl: 604
Erscheinungstermin: 1. Dezember 2016
Englisch
Abmessung: 241mm x 160mm x 38mm
ISBN-13: 9789811025181
ISBN-10: 9811025185
Artikelnr.: 45508806
PART ONE: INSTRUCTION PROCESSChapter I: Instructional ModelsIntroduction Section 1: Definition and Taxonomies of Models of Teaching a.Defining Models of Teachingb.Taxonomies of Models of TeachingSection 2: Behavioral Models of Teachinga.Direct Instructionb.Mastery LearningSection 2: Cognitive Models of Teachinga.Gagné's Nine Events of Instructionb.Concept Attainment Modelc.Synectics: Teaching Creative Thinking Section 3: Social-Interaction Models of Teachinga.Cooperative Learningb.Argumentation-Based TeachingSection 4: Personalized Learninga.Keller's Personalized System of Instructionb.Differentiated InstructionSection 5: Models of Teaching related with the Affective Domain a.The Values Development Modelb. ARCS Model of Motivational DesignSection 6: ConclusionReferences Bibliography
Chapter II: Instructional StrategiesIntroductionSection 1: Definitionsa.Instruction, teaching, learningb.Nature of Instructionc.Instructional StrategySection 2: Classificationsa.Traditional taxonomiesb.Popular taxonomiesc.Cross-disciplinary taxonomiesd.Activity based taxonomies
Section 3: Activities (based on strategies)a.Focus Strategies Activities1.Learner Oriented Strategies2.Instructor Oriented Strategiesb.Process Strategies Activities1.Problem solving, sample event strategies2.Discussion, brainstorming strategies3.Modeling, role playing, simulation strategies4.Making pupils think, interrogate, interpret strategies5.Presentation strategies6.Question and answer strategies7.Making write, take notes, summarize strategies8.Research and Project strategiesSection 4: ConclusionReferencesBibliography
Chapter III: Teaching MethodsIntroductionSection 1: Definitionsa.Nature of teaching methodsb.Classification of teaching methodsc.Basic factors affecting the choice of teaching methodsSection 2: Teaching Methods and Activitiesa.Lecture methodb.Discussion methodc.Case study methodd.Demonstratione.Dramatizationf.Individualized study methodSection 3: ConclusionReferencesBibliography
Chapter IV: Instructional TechniquesIntroductionSection 1: Definitionsa.The relationship between strategies, methods and techniques b.Instructional Techniquesc.The factors affecting the selection of instructional techniquesSection 2: Classificationsa.Techniques used in group learningb.Techniques used in individual learning c.Commonly used techniques Section 3: Activities (based on techniques)a.Techniques activities according to education levels 1.Higher and Adult Education oriented techniques2.Primary and Secondary Education oriented techniquesb.Technique activities according to learning skills1.Techniques used in developing information organization skills 2.Techniques used in developing thinking skills3.Techniques used in developing discussion skills4.Techniques used in developing problem solving skills Section 4: ConclusionReferencesBibliography<
Chapter V: Instructional TacticsIntroductionSection 1: Planning Phasea.Decide What to Teachb.Decide How to TeachSection 2: Presentation Phasea.Presenting Contentb.Motivating Studentsc.Guiding Student Studyd.Managing ClassroomSection 3: Evaluation Phasea.Monitoring Students Understandingb.Handling Homework, Testing, and GradingSection 4: ConclusionReferencesBibliography
Chapter VI: Planning for InstructionSection 1: Describing instructional aimsSection 2: Determining instructional objectivesa.Discipliner or interdisciplinary instructionb.National or integrated international curriculumc.Professional standardsd.Teacher competences1.Knowledge of teaching profession2.Knowledge of teaching field3.Knowledge of liberal educatione.Pupils' qualificationsf.The role of parents on the instructional processSection 3: Organizing contenta.Nature of instruction processb.Preparing activity1.Tag of activity2.Instruction design3.EvaluationReferences Bibliography

PART TWO: ACTIVITY SAMPLESChapter VII: Language of EnglishSection 1: Presentation of fieldSection 2: Activity Samplesa.Activity One: Teaching English as a Foreign Language through Problem-based Learning1.Tag of activity2.Instruction Design: Problem-based Learningb.Activity Two: Teaching English as a Foreign Language through Project-based Learning1.Tag of activity2.Instruction Design: Project-based Learningc.Activity Three: Teaching English as a Foreign Language through Inquiry-based Learning1.Tag of activity2.Instruction Design: Inquiry-based Learningd.Activity Four: Teaching English as a Foreign Language through Total Physical Response1.Tag of activity2.Instruction Design: Total Physical Responsee.Activity Five: Teaching English as a Foreign Language through Communicative Language Learning1.Tag of activity2.Instruction Design: Communicative Language Learningf.Activity Six: Teaching English as a Foreign Language through Suggestopedia1.Tag of activity2.Instruction Design: SuggestopediaSection 3: ConclusionReferences Bibliography
Chapter VIII: Language of Turkish - First LevelsSection 1: Presentation of fielda.Briefing the first levels1.The significance of Teaching Turkish as a foreign language2.Current Approaches in Turkish as a foreign language teaching3.Factors influencing the determination of the teaching methods/techniquesb.First Levels Methods and techniques in Turkish as a foreign language TeachingSection 2: Activity samplesa.Activity One: Teaching the use of Turkish numbers1.Tag of activity2.Instruction Design I: Direct Model3.Instruction Design II: Total Physical Responseb.Activity Two: Teaching the use of Turkish Adjectives 1.Tag of activity2.Instruction Design I: Direct Model3.Instruction Design I: Cognitive-Code Methodc.Activity Three: The use of Teaching inserts in the Turkish state1.Tag of activity2.Instruction Design I: Direct Model3.Instruction Design II: Cognitive-Code Model4.Instruction Design III: Total Physical Responsed.Activity Four: Teaching the use of Turkish Verbs1.Tag of activity2.Instruction Design I: Direct Model3.Instruction Design II: Communicative Modele.Activity Five: Teaching the use of Turkish Idioms1.Tag of Activity2.Instruction Design I: Direct Model3.Instruction Design II: Multiple IntelligenceSection 3: ConclusionReferences Bibliography
Chapter IX: Language of Turkish - Middle LevelsSection 1: Presentation of fielda.Briefing the middle levelsb.Intermediate Methods and techniques in Turkish as a foreign language TeachingSection 2: Activity samplesa.Activity One: Sentences1.Tag of activity2.Instruction Design: Creative Reading and Translationb.Activity Two: My role1.Tag of activity2.Instruction Design: Dramac.Activity Three: Who am I?1.Tag of activity2.Instruction Design: Question-Answerd.Activity Four: This is mine, that is yours1.Tag of activity2.Instruction Design: Analogy & Metaphore.Activity Five: Find it!1.Tag of activity2.Instruction Design: Communication gamesf.Activity Six: 1.Tag of activity2.Instruction Design: Grammar gamesSection 3: ConclusionReferences Bibliography

Chapter XI: HistorySection 1: Presentation of fielda.Briefingb.Methods and techniques in History TeachingSection 2: Activity samplesa.Activity One: Religion-based wars in centuries XI. and XIII.: The Crusades<1.Tag of activity2.Instruction Design I: 5E Learning Modelb.Activity Two: War Killed 40 Million People: World War II1.Tag of activity2.Instruction Design I: Problem-Based Learningc.Activity Three: A Revolution in France, A Change in the World: The French Revolution1.Tag of activity2.Instruction Design I: Computer-based Learningd.Activity Four: Towards a Unipolar World: Dissolution of the USSR1.Tag of activity2.Instruction Design I: Project-Based Learninge.Activity Five: Serial Production and Enrichment of the West: Industrial Revolution1.Tag of activity2.Instruction Design I: Keller PlanSection 3: ConclusionReferences Bibliography
Chapter XII: GeographySection 1: Presentation of fielda.Briefing1.The significance of Teaching Geography2.Current Approaches in Geography teaching3.Factors influencing the determination of the teaching methods/techniquesb.Methods and techniques in Geography TeachingSection 2: Activity samplesa.Activity One: Energy sources1.Tag of activity: 2.Instruction Design I: The use of Social Network in Teaching Geographyb.Activity Two: The language of climates1.Tag of activity2.Instruction Design I: The use of Drama in Teaching Geographyc.Activity Three: The conscious of environment1.Tag of activity2.Instruction Design I: The use of Projects in Teaching Geography d.Activity Four: Preparing maps1.Tag of activity2.Instruction Design I: The use of Web-based GIS (Geographic Information Systems) in Teaching Geographye.Activity Five: Settlements1.Tag of activity2.Instruction Design I: The use of Collaborative Learning in Teaching Geographyf.Activity Six: Natural disasters1.Tag of activity2.Instruction Design I: The use of Media in Teaching GeographySection 3: ConclusionReferences Bibliography
Chapter XIII: ICT (Information and Communication Technologies)Section 1: Presentation of fielda.Briefingb.Methods and techniques in ICT Education2.Instructional Design I: Mastery Learning Model3.Instructional Design II: 5E Model4.Instructional Design III: Multiple Intelligenceb.Activity Two: Information Searching1.Tag of activity2.Instructional Design: Web-based learning c.Activity Three: Information Sharing1.Tag of activity2.Instructional Design: Inquiryd.Activity Four: Creating Multimedia1.Tag of activity2.Instructional Design: Computer-based learninge.Activity Five: Creating School Newspaper1.Tag of activity2.Instructional Design I: Project-based learningSection 3: ConclusionReferences Bibliography

PART THREE: EFFECTS OF INSTRUCTIONAL ACTIVITIESChapter XIV: Effects of instructional activitiesSection 1: DiscussionSection 2: Further studies
References AppendixAuthor indexSubject indexBibliography