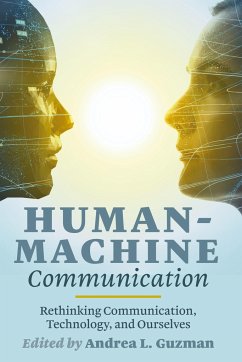 Andere Kunden interessierten sich
auch
für
Human-Machine Communication: Rethinking Communication, Technology, and Ourselves addresses this transition in how people communicate and who, or what, they communicate with and the implications of this evolution for communication research. Geared toward scholars interested in people's interactions with technology, this book serves as an introduction to human-machine communication (HMC) as a specific area of study within communication (encompassing human-computer interaction, human-robot interaction, and human-agent interaction) and to the research possibilities of HMC. This collection includes papers presented as part of a scholarly conference on HMC, along with invited works from noted researchers. Topics include defining HMC, theoretical approaches to HMC, applications of HMC, and the larger implications of HMC for self and society. The research presented here focuses on people's interactions with multiple technologies (artificial intelligence, algorithms, and robots) used within different contexts (home, workplace, education, journalism, and healthcare) from a variety of epistemological and methodological approaches (empirical, rhetorical, and critical/cultural). Overall, Human-Machine Communication provides readers with an understanding of HMC in a way that supports and promotes further scholarly inquiry in a growing area of communication research.


Produktdetails
Digital Formations 117
Artikelnr. des Verlages: 314251
Seitenzahl: 294
Erscheinungstermin: 5. Oktober 2018
Englisch
Abmessung: 231mm x 155mm x 20mm
Gewicht: 489g
ISBN-13: 9781433142512
ISBN-10: 1433142511
Artikelnr.: 54224623
List of Figures - List of Tables - Preface - Acknowledgments - Andrea L. Guzman: Introduction: "What Is Human-Machine Communication, Anyway?" - Autumn P. Edwards: Animals, Humans, and Machines: Interactive Implications of Ontological Classification - Eleanor Sandry: Aliveness and the Off-Switch in Human-Robot Relations - Leslie M. Fritz: Child or Product? The Rhetoric of Social Robots - Chad Edwards/Brett Stoll/Autumn P. Edwards/Patric R. Spence/Andrew Gambino: "I'll Present to the Human": Effects of a Robot Evaluator on Anticipatory Public Speaking Anxiety - Matthew Lombard: Presence Past and Future: Reflections on 25 Years of Presence Technology, Scholarship, and Community - S. Austin Lee/Yuhua (Jake) Liang: Theorizing Verbally Persuasive Robots - Christoph Lutz/Aurelia Tamò: Communicating With Robots: ANTalyzing the Interaction Between Healthcare Robots and Humans With Regards to Privacy - Terje Colbjørnsen: My Algorithm: User Perceptions of Algorithmic Recommendations in Cultural Contexts - Patric R. Spence/David Westerman/Xialing Lin: A Robot Will Take Your Job. How Does That Make You Feel? Examining Perceptions of Robots in the Workplace - Sakari Taipale/Leopoldina Fortunati: Communicating With Machines: Robots as the Next New Media - David J. Gunkel: Ars Ex Machina: Rethinking Responsibility in the Age of Creative Machines - Charles Ess: Ethics in HMC: Recent Developments and Case Studies - Volume Editor - Contributors - Index.