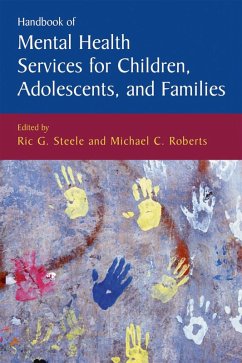 Andere Kunden interessierten sich
auch
für


Areas of coverage include:

Specific modalities in service delivery, including in-patient and day treatment facilities, pediatric hospitals, and community mental health centers as well as rural, school, and primary care settings.

Services tailored to special populations, such as adolescent sex offenders, homeless children and their families, children with chronic illness, oppositional teens, abuse situations, and children exposed to traumatic events.

Details on preventative programs for child abuse, substance abuse, STD's, and gang violence.

An in-depth examination of the latest developments in children's services, including therapeutic camping and Internet-based treatment.

Approaches and methods for evaluating service organization, delivery, and efficacy.

Few areas of mental health care demonstrate the need for complementary services as much as child and family practice does. With this need firmly in mind, the Handbook encourages creativity and collaboration within practice settings and across agencies. For clinicians, administrators, school practitioners, and advanced-level students, this is a reference certain to have lasting impact on the field.