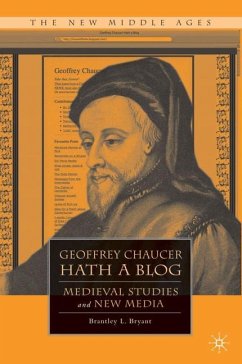 Medieval Studies and New Media presents all of the most memorable posts of the medievalist internet phenomenon "Geoffrey Chaucer Hath a Blog," newly revised and updated, along with essays on the genesis of the blog itself, the role of internet blogs in medieval scholarship, and the unique pleasures of studying a time period full of plagues, schisms, and assizes. "Le Vostre GC" and medievalists Bonnie Wheeler, Jeffrey Jerome Cohen, and Robert W. Hanning draw new conclusions about the ways medieval studies are perceived, the connection between the past and the present, and the historical roots of popular culture.
Produktdetails
The New Middle Ages .
Verlag: Springer Palgrave Macmillan
2010
Seitenzahl: 212
Erscheinungstermin: 16. Juni 2010
Englisch
Abmessung: 216mm x 140mm x 11mm
Gewicht: 254g
ISBN-13: 9780230105072
ISBN-10: 0230105076
Artikelnr.: 29932980
PART I: Medievalism, Blogging, and Popular Culture Why Ye Sholde Nat Rede this Book - John Gower Introduction - Bonnie Wheeler Playing Chaucer - Geoffrey "LeVostreGC" Chaucer Blogging the Middle Ages - Jeffrey Jerome Cohen PART II: Medieval Recreations Chaucerians Do It With Pronounced E's and Other Risible Relics of a Career in the Medieval Trenches - Robert W. Hanning Geoffrey Chaucer Hath a Blog 2006-2009 - Geoffrey "LeVostreGC" Chaucer et al.
"There is a tendency to assume that anything that happened in history is not funny. Geoffrey Chaucer Hath a Blog performs the vital service of showing that the Middle Ages can be fun, and, as a side effect, reminding us that people were as capable of laughing in the fourteenth century as we are today . . . maybe more so." - Terry Jones, Director of Monty Python and the Holy Grail, and author of Chaucer's Knight: The Portrait of a Medieval Mercenary "While disappointed to discover that I am not the Chaucer blogger, I nonetheless commend this edifying tome." - David Wallace, Judith Rodin Professor, University of Pennsylvania