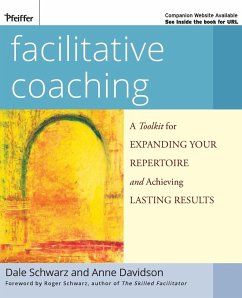 Produktdetails
Seitenzahl: 460
Erscheinungstermin: 28. November 2008
Englisch
Abmessung: 231mm x 202mm x 22mm
Gewicht: 841g
ISBN-13: 9780470192436
ISBN-10: 0470192437
Artikelnr.: 25050329
Contents of the CD-ROM. Foreword by Roger Schwarz. INTRODUCTION. COACHING EXERCISE MATRIX: MATCHING METHODS WITH CLIENT NEEDS. PART I: FOUNDATIONS FOR FACILITATIVE COACHING. CHAPTER ONE: THE IMPORTANCE OF EXPANDING YOUR REPERTOIRE. Anne Marie Resolves Her Dilemma. How Our Approach Differs from Others . The Importance of a Using Full Range of Interventions. Results from Expanding Your Repertoire. CHAPTER TWO: GUIDING PRINCIPLES. The Facilitative Coach Guiding Principles. Modeling the Guiding Principles. CHAPTER THREE: GUIDELINES FOR USING TOOLS AND TECHNIQUES. Tips for Diagnosing. How to Intervene. Intervention Steps. Choosing an Appropriate Intervention. Jointly Designing an Intervention. PART II: TOOLS
TECHNIQUES
AND EXERCISES. CHAPTER FOUR: STARTING WITH YOURSELF. Being Present. Exercises to Help You and Your Client Become Fully Present. Addressing Your Inner Critic. Inner Critic Exercise Series. CHAPTER FIVE: CHANGING THINKING. Distinguish Basic and Developmental Coaching. Developmental Coaching: James Sees It's More Than a Meeting. Carefully Honor Joint Design
Curiosity
and Compassionate Support. Distinguish Coaching from Therapy. Exercises for Changing Thinking. CHAPTER SIX: TALKING IT THROUGH. Exploring Statements. Intervening on Ground Rules. Inquiring: Zesty Questions Change Lives. Using Stories to Connect the Dots. Verbal Meets Visual: Metaphors and Guided Imagery. Exercises for Talking It Through. CHAPTER SEVEN: WRITING IT OUT. Structured and Reflective Writing. Guidelines for Writing Exercises. How It Works: Danna Discovers Her Muse. Structured Writing Exercises. Reflective Writing Exercises. CHAPTER EIGHT: MAKING IT VISUAL. Sallie Sees Her Fragmentation. The Power of Visual Knowing. Intervening Through Visual Expression. Exercises for Visual Expression. CHAPTER NINE: ENGAGING THE BODY. Anne Discovers Body Wisdom. What Is Body Wisdom? Benefits of Working Through the Body. Exercises for Accessing Body Wisdom. CHAPTER TEN:- CONDUCTING FIELDWORK AND EXPERIMENTS. Defining Fieldwork and Experiments. Fieldwork: When and Why. Experiments: When and Why. Designing Fieldwork and Experiments. Conducting and Debriefing Fieldwork and Experiments. Exercises for Fieldwork. Exercises for Experimentation. Work Project Skills Transfer. CHAPTER ELEVEN: ENACTING RITUALS. What Is a Ritual? Elana's Turning Point Ritual. The Parking Lot Ritual: Helping a Group Accept Change. Benefits of Including Rituals. Helping Your Client Design and Debrief a Ritual. Exercises for Rituals. CHAPTER TWELVE:- ASSESSING AND CELEBRATING RESULTS. Assessing Results. Celebrating Results. Exercises for Assessing and Celebrating Results. PART III: PUTTING IT ALL TOGETHER. CHAPTER THIRTEEN: DESIGNING YOUR OWN INTERVENTIONS. Give Yourself Permission to Create. Shamelessly Mine the Gift of Life. Use Whatever Is Available in the Moment. Use Your Intuition. Start Where the Client Is. Build on Contrasts. Listen for Metaphors
Analogies
or Colorful Language. Adapt What You Know. Remain Curious and Playful. Co-Create with Clients and Colleagues. CHAPTER FOURTEEN: COMBINING MODALITIES FOR SUCCESSFUL COACHING. Establishing a Relationship to Support Your Interventions. Combining Modalities. Guidelines for Choosing Modalities. Catalysts for Suggesting a Modality. A Three-Course Meal Plus Dessert: Combining Multiple Modalities Over Time. Closing the Coaching Engagement. Putting It All Together: Practice Scenarios for Choosing and Combining Modalities. APPENDICES: THE FACILITATIVE COACH FOUNDATION MODELS. Appendix A. The Facilitative Coach Model. Appendix B. The Unilateral Control and Mutual Learning Models. Appendix C. Ground Rules for Effective Groups. Appendix D. The Diagnosis-Intervention Cycle. Appendix E. The Life Learning (Creative/Survival) Model? Appendix F. The Drama Triangle. RESOURCES. Resources for Learning More. Suggested Art Materials. Suggestions for Addressing Chapter Fourteen Practice Scenarios. REFERENCES. Index. ABOUT THE AUTHORS.