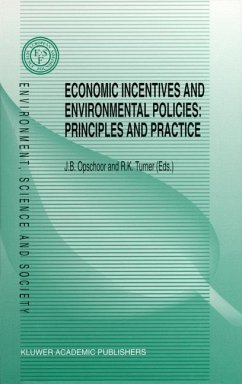 Andere Kunden interessierten sich
auch
für

The work concentrates on the scientific and methodological aspects of the development, implementation and evaluation of economic instruments at a national level. The research is both theoretical and empirical. At a theoretical level attention is given to the dynamics of instrument choice in various political and economic contexts, and to the means for evaluating economic instruments in terms of their effectiveness and efficiency. At an empirical level the research seeks to investigate the performance of economic instruments in reality and to explore options for new approaches on the interface between technology, economy and the environment. A subject index complements this first volume in the ESF `Environment, Science and Society' series.
Produktdetails
Environment, Science and Society .1
Softcover reprint of the original 1st ed. 1994
Seitenzahl: 320
Erscheinungstermin: 20. Oktober 2012
Englisch
Abmessung: 240mm x 160mm x 17mm
Gewicht: 514g
ISBN-13: 9789401043694
ISBN-10: 9401043698
Artikelnr.: 37478492
1. Environmental Economics and Policy Instruments: an Overview; R.K. Turner, J.B. Opschoor. Part I: Economic Analysis of Environmental Policy Instruments. 2. Environmental Policy Failures and Environmental Policy Levels; H. Verbruggen. 3. Economic Incentives in Environmental Policy: Why are they White Ravens? A. de Savornin Lohman. 4. On the Design of Incentive Mechanisms in Environmental Policy; K. Conrad, Jianmin Wang. Part II: Economic Instruments: Empirical Aspects. 5. Instruments Choice in Water Pollution Policy in Italy; A. Fraschini, A. Cassone. 6. Carbon Taxation and Global Warming: Domestic Policy Aspects; D. Piacentino. 7. Environmental Policy Instruments: an Applied General Equilibrium Modelling Approach for Quantifying their Efficiency and Effectiveness; K. Conrad, M. Schroeder. 8. Regulating the Farmers' Use of Pesticides in Sweden; I.-M. Gren. 9. Economic Instruments for Environmental Protection in Agriculture: Some Basic Problems of Implementation; H. Nutzinger. Part III: Product Cycles, Innovation and the Design of Economic Instruments. 10. Chain Management in Environmental Policy: Analytical and Evaluative Concepts; J.B. Opschoor. 11. Waste Paper Cycle Management: Incentives and Product Chain Pressure Point or Leverage Point Analysis; G. Bertolini. 12. The Role of Economic Instruments in Solid Waste Management Policy; R.K. Turner, D. Pearce. 13. Policy Instruments to Stimulate Cleaner Technologies; R. Kemp, X. Olsthoorn, F. Oosterhuis, H. Verbruggen. Index.