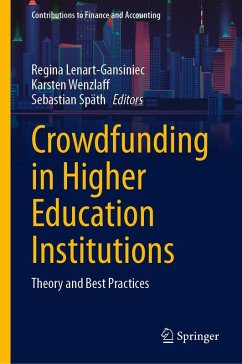 Andere Kunden interessierten sich
auch
für


Approaching crowdfunding from an integrated perspective, the book explores the relationship between crowdfunding and higher education institutions from both theoretical and practical perspectives.
The theory part outlines why higher institutions should interact with crowdfunding platforms beyond the goal of simply raising funds. It continues to define science crowdfunding and education crowdfunding and provides a literature review of education crowdfunding. It follows with an outline of teaching alternative finance theory.

The practice part consists of an attempt to develop a core curriculum for teaching crowdfunding, with cases stemming from university education as well as professional education. Two contributions deal with the implementation of crowdfunding platforms at universities. Furthermore, crowdfunding is then connected to non-fungible tokens used to alleviate student debt. Lastly, crowdfunding is put into the context of crowdsourcing practices.

It includes contributions from international academics, scholars and professionals in the field and provides a global, multidimensional perspective on crowdfunding. Lastly, the book is unique in that it points the way forward, both for policymakers and for the research community, in terms of thinking about crowdfunding at Higher Education Institutions and the complex issues surrounding its development.