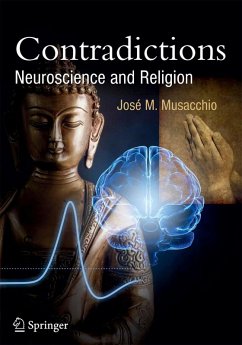 Produktdetails
Springer Praxis Books
Verlag: Springer, Berlin
Artikelnr. des Verlages: 80013750
Erscheinungstermin: Juni 2012
Englisch
Abmessung: 239mm x 172mm x 15mm
Gewicht: 372g
ISBN-13: 9783642271977
ISBN-10: 3642271979
Artikelnr.: 34513692
Introduction.- The Universality of Religious Beliefs.- The Contradictions and Consequences of Religious Beliefs.- The Evolution of Human Ancestors.- The Most Amazing Window on Human Nature.- Why Qualia and Consciousness Seem Mysterious.- The Word-Grounding Problem and the Incompleteness of Language.- The Roots of Knowledge.- Abstract and Imaginary Objects.- Nature Is Logical, Because Logic Is Natural.- Faith and the Validation of Beliefs.- Contradictory Beliefs or "Schizodoxia" is a Poor Mechanism of Adaptation.
From the reviews: "Professor Musacchio's book Contradictions was for me an immensely readable and enlightening survey of philosophical issues tackled from the point of a view of a trained neurologist. ... Musacchio's book represents a commendable first attempt at a more interdisciplinary approach to philosophy of mind and neuroscience ... . Anyone interested in a fresh and well-founded theory of qualia, semantics, and even religious experiences would do well to pick up Professor Musacchio's book." (Philosophy, Religion and Science Book Reviews, bookinspections.wordpress.com, May, 2014) "The author describes how complex networks of neural connections produce all human experiences, from simple motor movements to one's encounters with a transcendent reality. The strength of the author's arguments resides in an engaging series of case studies that help readers connect neurophysiological principles to how individuals 'experience' their brains. ... the book is a valuable addition to the science and religion debate. Summing Up: Recommended. Lower-division undergraduates through researchers/faculty." (J. A. Hewlett, Choice, Vol. 50 (7), March, 2013)