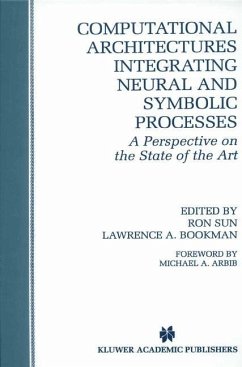 Andere Kunden interessierten sich
auch
für

Computational Architectures Integrating Neural and Symbolic Processes addresses the underlying architectural aspects of the integration of neural and symbolic processes. In order to provide a basis for a deeper understanding of existing divergent approaches and provide insight for further developments in this field, this book presents: (1) an examination of specific architectures (grouped together according to their approaches), their strengths and weaknesses, why they work, and what they predict, and (2) a critique/comparison of these approaches.
Computational Architectures Integrating Neural and Symbolic Processes is of interest to researchers, graduate students, and interested laymen, in areas such as cognitive science, artificial intelligence, computer science, cognitive psychology, and neurocomputing, in keeping up-to-date with the newest research trends. It is a comprehensive, in-depth introduction to this new emerging field.

Produktdetails
The Springer International Series in Engineering and Computer Science Vol.292
Verlag: Springer, Berlin
1995
Seitenzahl: 500
Erscheinungstermin: 30. November 1994
Englisch
Abmessung: 241mm x 160mm x 31mm
Gewicht: 875g
ISBN-13: 9780792395171
ISBN-10: 0792395174
Artikelnr.: 23080504
Foreword; M. Arbib. 1. An Introduction: On Symbolic Processing in Neural Networks; R. Sun. Part I: Localist Architectures. 2. Complex Symbol-Processing in Conposit, a Transiently Localist Connectionist Architecture; J.A. Barnden. 3. A Structured Connectionist Approach to Inferencing and Retrieval; T.E. Lange. 4. Hierarchical Architectures for Reasoning; R.C. Lacher, K.D. Nguyen. Part II: Distributed Architectures. 5. Subsymbolic Parsing of Embedded Structures; R. Miikkulainen. 6. Towards Instructable Connectionist Systems; D.C. Noelle, G.W. Cottrell. 7. An Internal Report for Connectionists; N.E. Sharkey, S.A. Jackson. Part III: Combined Architectures. 8. A Two-Level Hybrid Architecture for Structuring Knowledge for Commonsense Reasoning; R. Sun. 9. A Framework for Integrating Relational and Associational Knowledge for Comprehension; L.A. Bookman. 10. Examining a Hybrid Connectionist/Symbolic System for the Analysis of Ballistic Signals; C. Lin, J. Hendler. Part IV: Commentaries.