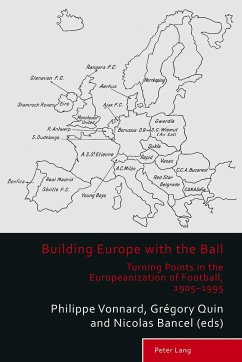 Andere Kunden interessierten sich
auch
für

This book examines the development of European football between 1905 and 1995 from a transnational perspective. It offers a space for discussion to both early-career and established historians from a range of different countries, leading to a better understanding of the crucial turning points in the Europeanization of the game. The volume aims to promote valuable new reflections on the role of football in the European integration process.
Produktdetails
Sport, History and Culture Vol.7
Verlag: Peter Lang, Pieterlen
Artikelnr. des Verlages: 431983
Erscheinungstermin: 28. Mai 2016
Englisch
Abmessung: 225mm x 150mm x 14mm
Gewicht: 370g
ISBN-13: 9783034319836
ISBN-10: 3034319835
Artikelnr.: 45144674
Contents: Nicolas Bancel/Grégory Quin/Philippe Vonnard: Introduction: Studying the Europeanization of Football in Historical Perspective - Paul Dietschy: Football during the Belle Époque: The First 'Europe of football' (1903-1914) - Grégory Quin: Central Europe Rules European Football: The 'Golden Age' of Regional Connections in European Football (1926-1938) - Matthew Taylor: English Football and 'the Continent' Reconsidered (1919-1960) - Nicola Sbetti: The Quest for Legitimacy: The Road to Redemption for Italian Football in Europe after the Second World War (1943-1949) - Xavier Breuil: Football and the Construction of a European Area in the East: Ruptures and Continuities after 1945 - Kevin Tallec Marston: 'Sincere Camaraderie': Professionalization, Politics and the Pursuit of the European Idea at the International Youth Tournament (1948-1957) - Philippe Vonnard: How did UEFA Govern the European Turning Point in Football? UEFA, the European Champion Clubs' Cup and the Inter-Cities Fairs Cup Projects (1954-1959) - Manuel Schotté: 'To live well is to live concealed': Confined Relations between UEFA and the European Community in the 1970s and 1980s - Jérôme Berthoud/Stanislas Frenkiel: The African Turning Point in European Football: Immigration Experiences of Cameroonian and Algerian Footballers in France during the 1980s - Yohan Ariffin: Afterword. Sport and Global Politics: Still an Unchartered Territory?
"The importance of this work must be highlighted first for its abundant use of documentation from a wide range of archives, some of which have not been previously consulted. Furthermore, it must be commended for its insightful analysis of European football from a more transnational perspective, an aspect that should serve to guide and stimulate further research into this subject."
(Juan Antonio Simon, Journal of Sport History 45/3 2018)