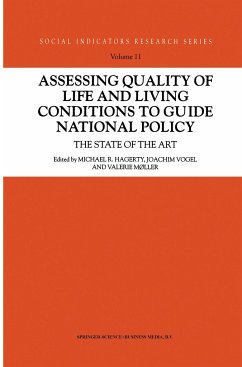 Andere Kunden interessierten sich
auch
für

The authors of these chapters are the world's top experts on assessing Quality of Life. For example, the author of the first chapter is Sten Johansson, former Director of Statistics Sweden, responsible for creating the first comprehensive QOL assessment systems in the world, beginning in the 1960's. The author of the second chapter is Professor Ruut Veenhoven, known as the premier researcher on national happiness, having developed the largest database in the world on the subjective measures of well-being. Heinz-Herbert Noll is responsible for developing the unified Quality of Life measurement system for the new European Union, where up to 25 countries will be assessed using the same methodology and questionnaires.
This volume is a valuable resource for four groups of readers. To researchers interested in best practices for well-established surveys of living conditions, the papers by Boelhouwer, Noll, Vogel, and Berger-Schmitt will be of special interest. To researchers and policy analysts interested in establishing a living-conditions report in their country, the papers by Kamen, Møller and Dickow, Estes, Andersen and Poppel, May, Stevens and Stols and Aasland and Tyldum give invaluable information about developing credibility, consensus-building, and survey design. For researchers interested in cross-national comparison, the papers by Hudler and Richter, and Delhey, Böhnke, Habich, and Zapf describe the rich resources already available, as well as problems of different wording, interpretation, etc. Finally, for citizens wishing to effect changes in public policy, and for researchers studying that process, the papers by Ferris, Estes, Hagerty, and Behrendt outline how organizations should select goals, utilize social indicators, and develop programs that improve the Quality of Life in their nations.
Produktdetails
Social Indicators Research Series Vol.11
Verlag: Springer Netherlands
Softcover reprint of the original 1st ed. 2002
Seitenzahl: 460
Erscheinungstermin: 4. Dezember 2010
Englisch
Abmessung: 235mm x 155mm x 24mm
Gewicht: 692g
ISBN-13: 9789048160648
ISBN-10: 9048160642
Artikelnr.: 32013741
Introduction; M. Hagerty et al. Part I: Concepts And Theory. Conceptualizing and Measuring Quality of Life for National Policy; S. Johansson. Why Social Policy Needs Subjective Indicators; R. Veenhoven. Towards a European System of Social Indicators: Theoretical Framework and System Architecture; H.H. Noll. Part II: Current Social Indicator and Social Reporting Programs: National and Comparative Experience. Strategies and Traditions in Swedish Social Reporting: A 30-Year Experience; J. Vogel. Quality of Life and Living Conditions in the Netherlands; J. Boelhouwer. 'Quality of Life' Research at the Israel Central Bureau of Statistics: Social Indicators and Social Surveys; C.S. Kamen. Quality of life in a European Perspective, The Euromodule as a New Instrument for Comparative Welfare Research; J. Delhey, et al. The NORBALT Project: Comparative Studies of Living Conditions in the three Baltic Countries; A. Aasland, G. Tyldum. Living Conditions in the Arctic; T. Andersen, B. Poppel. Crossnational Comparison of the Quality of Life in Europe: Inventory of Surveys and Methods; M. Hudler, R. Richter. Part III: Applying Social Indicators to Effect Social Change. TELESIS: The Uses of Indicators to Set Goals and Develop Programs to Change Conditions; A.L. Ferriss. The Role of Quality of Life Surveys in Managing Change in Democratic Transitions: The South African Case; V. Moller, H. Dickow. Monitoring the Impact of Land Reform on Quality of Life: A South African Case Study; J. May, et al. Toward a Social Development Index For Hong Kong: The Process of Community Engagement; R.J. Estes. International Comparisons of Trends in Economic Well-Being; L. Osberg, A. Sharpe. Declining Quality of Life Costs Governments Elections: Review of 13 OECD Countries; M.R. Hagerty. Considering Social Cohesion in Quality of Life Assessments: Concept and Measurement; R. Berger-Schmitt. Do Income Surveys Overestimate Poverty in Western Europe? Evidence from a Comparison with Institutional Frameworks; C. Behrendt. Author Index.