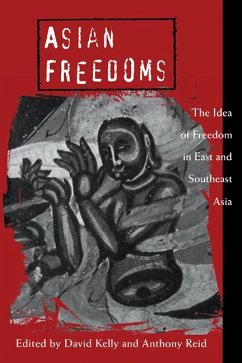 Andere Kunden interessierten sich
auch
für


Table of contents:
1. Freedom: a Eurasian mosaic David Kelly; 2. Buddhism and freedom Ian Mabbett; 3. Freedom and freehold: space, people and state simplification in Southeast Asia Jim Scott; 4. Chine and freedom Bill Jenner; 5. Freedom and the family: gendering Meiji political thought Vera Mackie; 6. The Chinese search for freedom as a universal value David Kelly; 7. Merdeka: the concept of freedom in Indonesia Tony Reid; 8. Slavery and modernity: freedom in the making of modern Siam Thanet Aphornsuvan; 9. The idea of freedom in Burma and the political thought of Daw Aung San Suu Kyi Josef Silverstein; 10. Freedom and elite political theory in Vietnam before the French Alexander Woodside.

This book argues that Western ideas of freedom have become widely accepted in Asia, as the key determinant for measuring a range of legal, ethical and political practices. The book finds that modern conceptions of freedom become adapted to local contexts throughout Asia. It avoids cultural relativism and generalisations, but does find a number of common ideas relating to freedom across the region.

A prestigious group of contributors examines how Western ideas of freedom have been accepted and adapted in Asia.
Produktdetails
Verlag: Cambridge University Press
Seitenzahl: 240
Erscheinungstermin: 28. April 2009
Englisch
Abmessung: 229mm x 152mm x 14mm
Gewicht: 375g
ISBN-13: 9780521637572
ISBN-10: 0521637570
Artikelnr.: 21091535