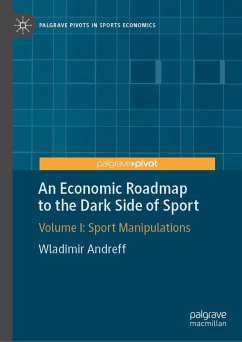 The book is divided into three volumes. Volume I covers those economic manipulations that breach sports rules, sporting integrity, violate managerial rules and the law, and infringe human rights in sport. It builds up a typology of sport manipulations which makes sense from an economic standpoint, not only from a sporting or judicial perspective.

Volumes II and III (available separately) focus on Corruption and Economic Crime in Sport, respectively.

This book will be of interest to students, researchers and journalists in sports science, sports management and sports economics.


Produktdetails
Palgrave Pivots in Sports Economics
Artikelnr. des Verlages: 978-3-030-28455-8
1st ed. 2019
Seitenzahl: 168
Erscheinungstermin: 18. Oktober 2019
Englisch
Abmessung: 216mm x 153mm x 14mm
Gewicht: 356g
ISBN-13: 9783030284558
ISBN-10: 3030284557
Artikelnr.: 57078236
Introduction

Chapter 1: A roadmap to economic violations of sport rules and the law

1.1. Sport manipulations for money
1.2. Economic dysfunctions of sport

1.3. Economic distortions through sport

1.4. Corruption in sport

1.5. Economic crime in sport

1.6. Historical perspective

1.7. Economic magnitude of the dark side of sport

1.8. Economic implications of sport manipulations

1.9. From economic awareness to political willingness

1.10. Limited trust in data

Chapter 2: Sport manipulations: breaching the sport rules to gain advantage

2.1. Non-economic manipulations of sport

2.1.1 Hazing

2.1.2 Sabotage, goading and diving

2.1.3 Cheating to win: playing with or against the rules

2.1.4 Gamesmanship

2.1.5 Refereeing biases

2.1.6 Health-compromising practices

2.1.7 Naked violence

2.1.8 Hooliganism

2.2. Violating the sport rules for competitive and economic advantage

2.2.1 Cheating to make money

2.2.2 Technological manipulations

2.2.3Tanking and sandbagging: losing to gain a (competitive or economic) advantage

Chapter 3: Economic dysfunctions of sport: violating managerial rules and the law

3.1. Breaching managerial rules and regulations in sport

3.1.1 Bad management and weak governance

3.1.2 Circumventing the regulation against unfair financial strategies

3.1.3 Financial doping

3.1.4 Circumventing ownership rules

3.2. Violating the business laws and beyond

3.2.1. Ticket touting

3.2.2 Embezzlement, slush funds, funds diversion, fraudulent transfers

3.2.3 Fake accounting

3.2.4 Fictitious player transfers and bungs

3.2.5 Third party ownership and the "financialisation" of footballers as assets
3.3. Circumventing the law through sport

3.3.1 Tax evasion

3.3.2 From money laundering to murders

Chapter 4: Economic distortions: infringing human rights in sport

4.1. Discrimination in the sports business

4.1.1 Gender discrimination

4.1.2 Racial and ethnic discrimination

4.2. Child labour in the sports industry

4.2.1 Teenage player transfers

4.2.2 Child labour in the sports goods industry

Chapter 5: Conclusion
---