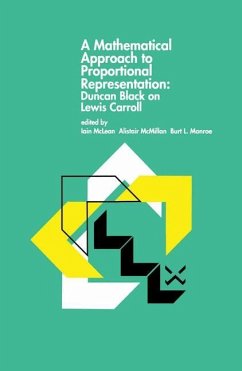 Produktdetails
Verlag: Springer Netherlands
1996.
Seitenzahl: 236
Erscheinungstermin: 31. Januar 1996
Englisch
Abmessung: 241mm x 160mm x 17mm
Gewicht: 517g
ISBN-13: 9780792396208
ISBN-10: 0792396200
Artikelnr.: 22923676
Editors' Preface. Introduction. 1. What is the Theory of Voting? 2. Duncan Black and the Study of Theoretical Politics. 3. The Duncan Black Archive at the University of Glasgow. 4. Black's Struggles for Recognition. 5. Black and Lewis Carroll. 6. Carroll's Principles of Parliamentary Representation. 7. The Making of This Book. References for the Introduction. Part 1: The Life and Logic of Lewis Carroll. 1.1. Government by Logic. Part 2: The Principles of Parliamentary Representation. 2.1. An Outline of Carroll's Argument. 2.2. The Central Argument in The Principles of Parliamentary Representation. 2.3. Carroll and the Cambridge Mathematical School of PR: Arthur Cohen and Edith Denman. Part 3: An Analysis of Carroll's Argument. 3.1. Carroll's Scheme of Proportional Representation. 3.2. The Desiderata: In at the Deep End. 3.3. The Droop Quota in a Two- Party System. 3.4. The Representation of the Droop Quota. 3.5. Walter Baily and the Number of Voters Unrepresented. 3.6. J.G. Marshall and the Two-Person Zero-Sum Game. 3.7. Demand Curves, Maximin, and the d'Hondt Scheme of PR. 3.8. The Fourfold Table and Carroll's Quota, Q(s). 3.9. Carroll's Practical Scheme and the Single Transferable Vote. 3.10. Allocating Members to Districts. Part 4: Reprints of Original Material. 4.1. Lewis Carroll: The Principles of Parliamentary Representation, with Supplement and Postscript to Supplement. 4.2. James Garth Marshall: Minorities and Majorities; Their Relative Rights. 4.3. Walter Baily: Proportional Representation in Large Constituencies. Index.