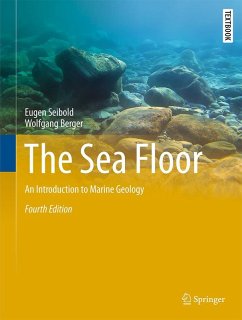 Andere Kunden interessierten sich
auch
für
Produktdetails
Springer Textbooks in Earth Sciences, Geography and Environment
Artikelnr. des Verlages: 978-3-319-51411-6
4. Aufl.
Erscheinungstermin: 26. Juni 2017
Englisch
Abmessung: 287mm x 215mm x 20mm
Gewicht: 1056g
ISBN-13: 9783319514116
ISBN-10: 3319514113
Artikelnr.: 47078418
1 Origin and Morphology of Ocean Basins.- 2 Origin and Morphology of Ocean Margins.- 3 Sources and Composition of Marine Sediments.- 4 Effects of Waves and Currents.- 5 Sea Level Processes and Effects of Sea Level Change.- 6 Productivity and Benthic Organisms - Distribution, Activity, and Environmental Reconstruction.- 7 Imprint of Climatic Zonation on Marine Sediments.- 8 Deep-Sea Sediments - Patterns, Processes, and Stratigraphic Methods.- 9 Paleoceanography - The Deep-Sea Record.- 10 Resources from the Ocean Floor.- Epilog.- List of Books and Symposia.- A1 Conversion Between Common US Units and Metric Units.- A2 Topographic Statistics.- A3 The Geologic Time Scale.- A4 Common Minerals.- A5 Grain Size Classification for Sediments.- A6 Common Rock Types.- A7 Geochemical Statistics.- A8 Radio-Isotopes and Dating.- A9 Systematic Overview for Major Groups of Common Marine Organisms Important in Sea floor Processes.- Index of Names.
Selected by Choice magazine as an Outstanding Academic Title for 2017

"The fourth edition incorporates a significant amount of new material, especially from geophysics and deep-ocean coring. ... This edition includes a short glossary used primarily to define phrases or point to their occurrence in the text. ... Summing Up: Highly recommended. Upper-division undergraduates and above; faculty and professionals." (L. S. Zipp, Choice, Vol. 55 (4), December, 2017)
This book is extremely readable for a non-geologist and is an extremely valuable source of information for all marine biologists interested in the interaction of their field with earth sciences. - Marine Ecology "Seibold and Berger's book is a classic!" - Geo Journal.