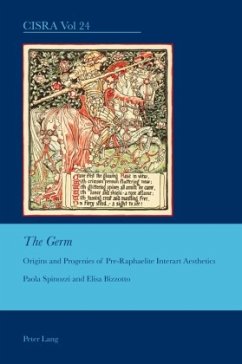 Andere Kunden interessierten sich
auch
für

Later in the twentieth century a succession of reappraisals transformed the Pre-Raphaelites into a well-marketed group of eccentrics, but neglected the complexity of their cross-cultural, verbal/visual art. This study aims to explain why claims about the autonomy and interrelatedness of the arts, expressed in the form of a provocative monthly journal, proved so influential as to be a source of inspiration for the Oxford and Cambridge Magazine , The Century Guild Hobby Horse , The Yellow Book , The Savoy , and even for Modernist periodicals. Often regarded as a juvenile venture, The Germ was in fact a laboratory for expressive forms, themes, and ideas that had an enormous impact on the history of British culture.
Produktdetails
Cultural Interactions: Studies in the Relationship between the Arts .24
Artikelnr. des Verlages: 430298
Neuausg.
Erscheinungstermin: 13. Juni 2012
Englisch
Abmessung: 226mm x 151mm x 19mm
Gewicht: 460g
ISBN-13: 9783034302982
ISBN-10: 3034302983
Artikelnr.: 36006646
Contents: Origins and Propagations - A Biographical Perspective on The Germ - Aesthetic Prose in The Germ : Moulding a Literary Mode - Germinal Poetical Imageries: From Pre-Raphaelism to the Fin de Siècle and Modernism - Legacies: The Germ as the Prototype of the Artist's Magazine.
"In their fresh reassessment of 'The Germ', its ambitions, its paradoxes, and its self-reflexivity, the authors provide a useful literary and critical addition to the recent inclusion of Pre-Raphaelitism within the broader context of European Avant-gardes [...]." (Béatrice Laurent, Cahiers victoriens et édouardiens 79, 2014)