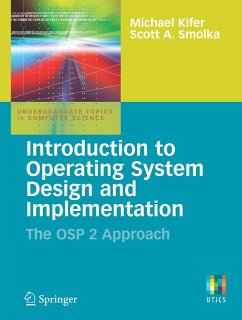 Andere Kunden interessierten sich
auch
für

Topics and Features: Process and thread management; Memory, Resource and I/0 device management; Interprocess communication; Gives opportunity to practice these skills in a realistic operating systems programming environment.
This book contains enough projects for up to 3 semesters, exposing students to many essential features of operating systems, while at the same time isolating them from low-level machine-dependent concerns. Thus, even in 1 semester, students can learn about page-replacement strategies in virtual memory management, CPU-scheduling strategies, disk seek-time optimization & other issues in operating system design.
Produktdetails
Undergraduate Topics in Computer Science
Verlag: Springer, Berlin
Artikelnr. des Verlages: 11942689
2007
Seitenzahl: 188
Erscheinungstermin: 14. August 2007
Englisch
Abmessung: 235mm x 178mm x 10mm
Gewicht: 364g
ISBN-13: 9781846288425
ISBN-10: 1846288428
Artikelnr.: 22770860
Organization of OSP 2.- Putting it All Together: An Example Session with OSP 2.- Tasks: Management of Tasks (a.k.a. Processes).- Threads: Management and Scheduling of Threads.- Memory: Virtual Memory Management.- Devices: Scheduling of Disk Requests.- FileSys: The File System.- Ports: Interprocess Communication.- Resources: Resource Management.
From the reviews: "This book is a manual for a hands-on computer science course on design principles and algorithms of modern operating systems. To convey essential features of today's operating systems, the authors have contrived an operating system framework, called OSP 2, written in Java, in order to assign projects that implement management of important operating system features." (Rainer Horsch, Zentralblatt MATH, Vol. 1130 (8), 2008)