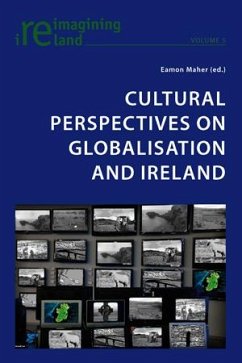 Andere Kunden interessierten sich
auch
für

This collection of essays, largely the fruit of two workshops organised under the auspices of the Humanities Institute of Ireland at University College Dublin and the National Centre for Franco-Irish Studies in the Institute of Technology, Tallaght, explores how globalisation has taken such a firm hold on Irish society and provides a cultural perspective on the phenomenon. The book is divided into two sections. The first examines various manifestations of globalisation in Irish society whereas the second focuses on literary representations of globalisation. The contributors, acknowledged experts in the areas of cultural theory, religion, sociology and literature, offer a panoply of viewpoints of Ireland's interaction with globalisation.
Produktdetails
Reimagining Ireland .5
Artikelnr. des Verlages: 11851
Neuausg.
Seitenzahl: 260
Erscheinungstermin: 6. August 2009
Englisch
Abmessung: 225mm x 150mm x 14mm
Gewicht: 370g
ISBN-13: 9783039118519
ISBN-10: 303911851X
Artikelnr.: 27467446
Contents: Fintan O'Toole: Foreword - Eamon Maher: Introduction - Michael Cronin: Inside Out: Time and Place in Global Ireland - Catherine Maignant: The Global Irish Spirit - Grace Neville: In at the Death: The French Press and the Celtic Tiger - Eugene O'Brien: Negotiating the Self: The Spectral Mobile Subject - Peadar Kirby: Globalisation, Vulnerability and the Return to Religion: Reflections from the Irish Experience - Tom Inglis: The Global is Personal - Anne Fogarty: Contemporary Irish Fiction and the Transnational Imaginary - Alison O'Malley-Younger/Tom Herron: 'Root and Routes': Home and Away in Friel and Heaney - Patrick Lonergan: Irish Theatre and Globalisation: A Faustian Pact? - Willy Maley: 'Coming of Age' (and other Fictions of Globalisation) in Three Novels by Seamus Deane, Roddy Doyle and Patrick McCabe - Eamon Maher: 'The Universal is the Local without Walls': John McGahern and the Global Project.