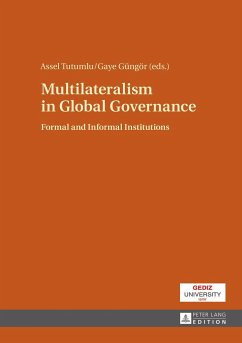 Produktdetails
Verlag: Peter Lang, Pieterlen
Artikelnr. des Verlages: .266302, 266302
Neuausg.
Seitenzahl: 269
Erscheinungstermin: 19. Mai 2016
Englisch
Abmessung: 216mm x 154mm x 23mm
Gewicht: 440g
ISBN-13: 9783631663028
ISBN-10: 3631663021
Artikelnr.: 44978469
Contents: Gaye Güngör/Assel Tutumlu: "Why Revisit Multilateralism?" - Assel Tutumlu: "Five Democratisation Myths" - Ana Isabel Xavier: "The European Union as a (Global) Security Provider: From "Old" to "New" Regionalism?" - Anna Aseeva: "Global Trade Governance and Informal Voluntary Standards: the Socio-Normative Analysis of Legitimacy of the ISO" - Pola Cebulak: "The Tensions between Internal and External Multilateralism in the Case Law of the Court of Justice of the European Union Concerning International Agreements" - Gaye Güngör: "Global Investment Governance Architecture: the Case of UNCTAD" - Suat Öksüz: "Multilateralizing Regionalism: the Cases of the EU (+36) and ASEAN (+6)" - Zeynep Sahin Mencütek: "Refugee Governance in the Middle East and North Africa by the Arab League" - Nefise Ela Gökalp Aras: "A Bio-political Governance: The European Union's Policy on Irregular Transit Migration at the Borders" - Bülent Ugrasiz: "The Rivalry between Turkey and Iran in the Middle East Region" - Çigdem Üstün: "Global Governance and International Security Organizations: the OSCE and NATO".