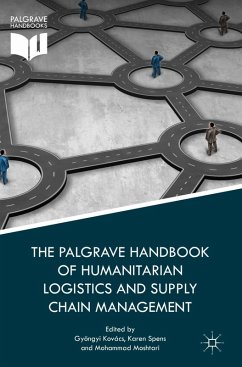 Andere Kunden interessierten sich
auch
für
---
Dieser Download kann aus rechtlichen Gründen nur mit Rechnungsadresse in A, B, BG, CY, CZ, D, DK, EW, E, FIN, F, GB, GR, HR, H, IRL, I, LT, L, LR, M, NL, PL, P, R, S, SLO, SK ausgeliefert werden.
Produktdetails
Verlag: Springer-Verlag GmbH
Erscheinungstermin: 13.10.2017
Englisch
ISBN-13: 9781137590992
Artikelnr.: 52935409
Chapter 1.1. Social Network Analysis in the context of Humanitarian Logistics; Natalie Simpson, Zhasmina Tacheva and Ta-Wei (Daniel) Kao.- Chapter 1.2. Deploying Collaborative Management Research Approaches in Humanitarian Supply Chains: An Overview and Research Agenda; Yasmine Sabri.- Chapter 1.3. Future Research in Humanitarian Operations: A Behavioral Operations Perspective; Karthik Sankaranarayanan, Jaime Andrés Castañeda, and Sebastián Villa.- Chapter 2.1. Challenges and opportunities for humanitarian researchers: Dreadful biases and heavenly combinations of mixed methods; Pervaiz Akhtar.- Chapter 2.2. So much of research is context: fieldwork experience in humanitarian logistics; Minchul Sohn.- Chapter 2.3. Conducting in-depth case studies in humanitarian logistics:The case of MSF; Diego Vega.- Chapter 2.4. The Application of the Case Study Methodology: Resilience in Domestic Food Supply Chains during Disaster Relief Efforts in South Asia; Mark Wilson, Muhammad Umar, Jeff Heyl.- Chapter 3.1. An Understanding of Humanitarian and Disaster Relief Supply Chain Integration (HDR-SCI); Jihee Kim, Stephen Pettit, Irina Harris, Anthony K. C. Beresford.- Chapter 3.2. An Empirical investigation of Swift Trust in Humanitarian Logistics Operations; Q. Lu, M. Goh, R. de Souza.- Chapter 3.3. Drivers of Coordination in Humanitarian Relief Supply Chains; Rameshwar Dubey, Nezih Altay.- Chapter 3.4. Agility learning opportunities in cross-sector collaboration. An exploratory study; Alessandra Cozzolino, Ewa Wankowicz, Enrico Massaroni.- Chapter 4.1. How flexibility accommodates demand variability in a service chain: insights from exploratory interviews in the refugee supply chain; Kirstin Scholten, Carolien de Blok, Robbin-Jan Haar.- Chapter 4.2. Developing Individual Competencies for Humanitarian Logistics; Graham Heaslip, Peter Tatham, Alain Vaillancourt.- Chapter 4.3. Governance of service triads in humanitarian logistics; Graham Heaslip, Gyöngyi Kovács.- Chapter 4.4. Multimodal Logistics in Disaster Relief; Syed Tariq, Muhammad Naiman Jalil, Muhammad Adeel Zaffar.- Chapter 5.1. Structuring Humanitarian Supply Chain Knowledge through a Meta-Modelling Approach; Laura Laguna Salvadó, Matthieu Lauras, Tina Comes, Frederick Bénaben.- Chapter 5.2. Decision Support Systems for Urban Evacuation Logistics in Practice; Marc Goerigk, Horst W. Hamacher, Sebastian Schmitt.- Chapter 5.3. Advances in network accessibility and reconstruction after major earthquakes; Andréa Cynthia Santos.- Chapter 5.4. Information Technology in Humanitarian Logistics and Supply Chain Management; Dorit Schumann-Bölsche.- Chapter 5.5. Bridging research and practice in humanitarian logistics: a quick diagnostic tool to assess organisational agility; Cécile L'Hermitte, Marcus Bowles, Peter Tatham, Benjamin Brooks.- Chapter 6.1. The Evolutions of Humanitarian-Private Partnerships: Collaborative Frameworks Under Review; Rolando M. Tomasini.- Chapter 6.2. Review of empirical studies in Humanitarian Supply Chain Management: methodological considerations, recent trends and future directions; Lijo John.- Chapter 6.3. Four Theories for Research in Humanitarian Logistics; Richard Oloruntoba.- Chapter 6.4. From Aid to Resilience: How to Bridge Disaster Resilience and Humanitarian Supply Chain Management Research; Eija Meriläinen.