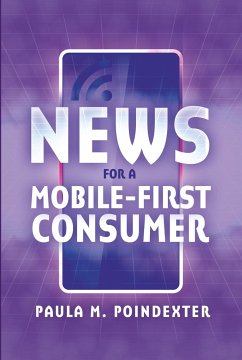 Andere Kunden interessierten sich
auch
für


Based on two national surveys, News for a Mobile-First Consumer introduces a mobile consumer taxonomy comprised of three types of mobile consumers: mobile-first, mobile specialists, and mobile laggards. The demographics of these mobile consumers as well as their relationship to news and social media are explored in depth. Social media as a competitor to and platform for mobile news are also examined, and special attention is devoted to news apps from the perspective of consumers.

News for a Mobile-First Consumer also provides insight about millennials, racial and ethnic minorities, and women, who are at the forefront of the mobile revolution but less engaged with news. To improve mobile journalism and increase news engagement, «Essentials of Mobile Journalism» are proposed.

As the first book to explore news and consumers in the mobile sphere, this book is required reading for scholars and professionals as well as undergraduate and graduate students enrolled in journalism, communication, strategic communications, advertising, media and society, marketing, and technology courses.


Produktdetails
Artikelnr. des Verlages: 312841
Neuausg.
Seitenzahl: 296
Erscheinungstermin: 19. September 2016
Englisch
Abmessung: 231mm x 155mm x 20mm
Gewicht: 520g
ISBN-13: 9781433128417
ISBN-10: 1433128411
Artikelnr.: 45619949
List of Figures - List of Tables - List of Appendices - Preface - Acknowledgments - The Smart Mobile Landscape - News in the Mobile Age - Social Media on the Mobile Stage - News Consumers' Preferences in a Mobile Environment - Millennials in a Mobile News and Social Media World - Race, Ethnicity, and Mobile - Women and Men: Divided and Connected in the Mobile Space - Political Identity, News, Social Media, and Mobile - Doing Journalism in a Mobile World - The Future of News in a Crowded Mobile Landscape - Appendices - References - Index

«To conclude, News for a Mobile-First Consumer is an easy-to-read and accessible book which gives a broad overview of news in a mobile world. It brings together insights of audience studies and journalism. The book should be on the reading list for (American) students interested in innovation and journalism. Also, news organizations would benefit reading the book to get a better insight into their mobile audiences.»
(Kristin Van Damme, International Journal of Digital Television Vol. 8, Number 2 2017)

«The connections made throughout the book properly reveal the current state of news in its relationship to mobile media in the United States. News for a Mobile-First Consumer thus serves not only as an appropriate guidebook to the industry but also as an effective supporting text for a university journalism class.»
(Tony R. DeMars, Electronic News Vol. 12(1) 2018)

«Taken together, this thoughtful work provides an approachable entry point for scholars, students and savvy practitioners to better understand the evolving ecology of mobile news.»
(Jan Lauren Boyles, Newspaper Research Journal 38/4 2017)