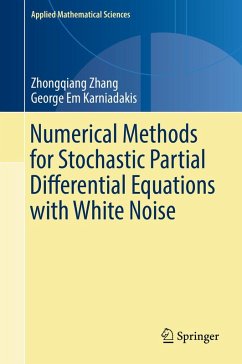 Andere Kunden interessierten sich
auch
für


This book can be considered as self-contained. Necessary background knowledge is presented in the appendices. Basic knowledge of probability theory and stochastic calculus is presented in Appendix A. In Appendix B some semi-analytical methods for SPDEs are presented. In Appendix C an introduction to Gauss quadrature is provided. In Appendix D, all the conclusions which are needed for proofs are presented, and in Appendix E a method to compute the convergence rate empirically is included.

In addition, the authors provide a thorough review of the topics, both theoretical and computational exercises in the book with practical discussion of the effectiveness of the methods. Supporting Matlab files are made available to help illustrate some of the concepts further. Bibliographic notes are included at the end of each chapter. This book serves as a reference for graduate students and researchers in the mathematical sciences who would like to understand state-of-the-art numerical methods for stochastic partial differential equations with white noise.


Produktdetails
Applied Mathematical Sciences 196
Artikelnr. des Verlages: 978-3-319-57510-0
Erscheinungstermin: 12. September 2017
Englisch
Abmessung: 241mm x 160mm x 28mm
ISBN-13: 9783319575100
ISBN-10: 3319575104
Artikelnr.: 47847727
Preface.- Prologue.- Brownian Motion and Stochastic Calculus.- Numerical Methods for Stochastic Differential Equations.- Part I Stochastic Ordinary Differential Equations.- Numerical Schemes for SDEs with Time Delay Using the Wong-Zakai Approximation.- Balanced Numerical Schemes for SDEs with non-Lipschitz Coefficients.- Part II Temporal White Noise.- Wiener Chaos Methods for Linear Stochastic Advection-Diffusion-Reaction Equations.- Stochastic Collocation Methods for Differential Equations with White Noise.- Comparison Between Wiener Chaos Methods and Stochastic Collocation Methods.- Application of Collocation Method to Stochastic Conservation Laws.- Part III Spatial White Noise.- Semilinear Elliptic Equations with Additive Noise.- Multiplicative White Noise: The Wick-Malliavin Approximation.- Epilogue.- Appendices.- A. Basics of Probability.- B. Semi-analytical Methods for SPDEs.- C. Gauss Quadrature.- D. Some Useful Inequalities and Lemmas.- E. Computation of Convergence Rate.
"Zhang and Karniadakis' book may be used as a textbook, but it may also be considered as a reference for the state of the art concerning the numerical solution of stochastic differential equations involving white noise/Wiener processes/ Brownian motion. ... Bibliographic notes address the state of the art in the field. Appendices give the necessary background in probability, stochastic calculus, semi-analytical approximation methods for stochastics differential equation, Gauss quadrature ... . " (José Eduardo Souze de Cursi, Mathematical Reviews, September, 2018)

"It is an interesting book on numerical methods for stochastic partial differential equations with white noise through the framework of Wong-Zakai approximation. ... . It is to be noted that the authors provide a thorough review of topics both theoretical and computational exercises to justify the effectiveness of the developed methods. Further, the MATLAB files are made available to the researchers and readers to understand the state of art of numerical methods for stochastic partial differential equations." (Prabhat Kumar Mahanti, zbMATH 1380.65021, 2018)