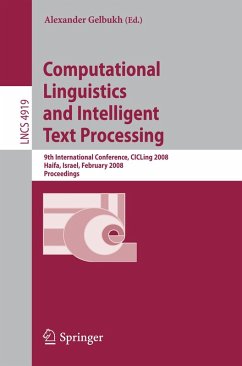 Andere Kunden interessierten sich
auch
für
---
Dieser Download kann aus rechtlichen Gründen nur mit Rechnungsadresse in A, B, BG, CY, CZ, D, DK, EW, E, FIN, F, GR, HR, H, IRL, I, LT, L, LR, M, NL, PL, P, R, S, SLO, SK ausgeliefert werden.
Produktdetails
Verlag: Springer-Verlag GmbH
Seitenzahl: 670
Erscheinungstermin: 10. Februar 2008
Englisch
ISBN-13: 9783540781356
Artikelnr.: 43886067
Language Resources.
A Distributed Database System for Developing Ontological and Lexical Resources in Harmony.
Verb Class Discovery from Rich Syntactic Data.
Growing TreeLex.
Acquisition of Elementary Synonym Relations from Biological Structured Terminology.
A Comparison of Co
occurrence and Similarity Measures as Simulations of Context.
Various Criteria of Collocation Cohesion in Internet: Comparison of Resolving Power.
Why Don't Romanians Have a Five O'clock Tea, Nor Halloween, But Have a Kind of Valentines Day?.
Best Student Paper Award.
SIGNUM: A Graph Algorithm for Terminology Extraction.
Morphology and Syntax.
Arabic Morphology Parsing Revisited.
A Probabilistic Model for Guessing Base Forms of New Words by Analogy.
Unsupervised and Knowledge
Free Learning of Compound Splits and Periphrases.
German Decompounding in a Difficult Corpus.
Clause Boundary Identification Using Conditional Random Fields.
Semantics and Discourse.
Natural Language as the Basis for Meaning Representation and Inference.
Layer Structures and Conceptual Hierarchies in Semantic Representations for NLP.
Deep Lexical Semantics.
On Ontology Based Abduction  for Text Interpretation.
Analysis of Joint Inference Strategies for the Semantic Role Labeling of Spanish and Catalan.
A Preliminary Study on the Robustness and Generalization of Role Sets for Semantic Role Labeling.
XTM: A Robust Temporal Text Processor.
Invited Paper.
What We Are Talking about and What We Are Saying about It.
Trusting Politicians' Words (for Persuasive NLP).
Sense Annotation in the Penn Discourse Treebank.
Word Sense Disambiguation and Named Entity Recognition.
A Semantics
Enhanced Language Model for Unsupervised Word Sense Disambiguation.
Best Paper Award, 1st Place.
Discovering Word Senses from Text Using Random Indexing.
Domain Information for Fine
Grained Person Name Categorization.
Language Independent First and Last Name Identification in Person Names.
Mixing Statistical and Symbolic Approaches for Chemical Names Recognition.
Anaphora and Co
reference.
Portuguese Pronoun Resolution: Resources and Evaluation.
Semantic and Syntactic Features for Dutch Coreference Resolution.
Machine Translation and Parallel Corpora.
Stat
XFER: A General Search
Based Syntax
Driven Framework for Machine Translation.
Invited Paper.
Statistical Machine Translation into a Morphologically Complex Language.
Translation Paraphrases in Phrase
Based Machine Translation.
n
Best Reranking for the Efficient Integration of Word Sense Disambiguation and Statistical Machine Translation.
Learning Finite State Transducers Using Bilingual Phrases.
Learning Spanish
Galician Translation Equivalents Using a Comparable Corpus and a Bilingual Dictionary.
Context
Based Sentence Alignment in Parallel Corpora.
Bilingual Segmentation for Alignment and Translation.
Dynamic Translation Memory: Using Statistical Machine Translation to Improve Translation Memory Fuzzy Matches.
Identification of Transliterated Foreign Words in Hebrew Script.
Natural Language Generation.
Innovative Approach for Engineering NLG Systems: The Content Determination Case Study.
Speech Recognition.
Comparison of Different Modeling Units for Language Model Adaptation for Inflected Languages.
Information Retrieval and Question Answering.
Word Distribution Analysis for Relevance Ranking and Query Expansion.
Hybrid Method for Personalized Search in Scientific Digital Libraries.
Alignment
Based Expansion of Textual Database Fields.
Detecting Expected Answer Relations through Textual Entailment.
Improving Question Answering by Combining Multiple Systems Via Answer Validation.
Text Classification.
Evaluation of Internal Validity Measures in Short
Text Corpora.
Text Summarization.
Arabic/English Multi
document Summarization with CLASSY
The Past and the Future.
Best Paper Award, 3rd Place.
Lexical Cohesion Based Topic Modeling for Summarization.
Terms Derived from Frequent Sequences for Extractive Text Summarization.
Spell Checking and Authoring Aid.
Real
Word Spelling Correction with Trigrams: A Reconsideration of the Mays, Damerau, and Mercer Model.
Best Paper Award, 2nd Place.
Non
interactive OCR Post
correction for Giga
Scale Digitization Projects.
Linguistic Support for Revising and Editing.
The Role of PP Attachment in Preposition Generation.
EFL Learner Reading Time Model for Evaluating Reading Proficiency.