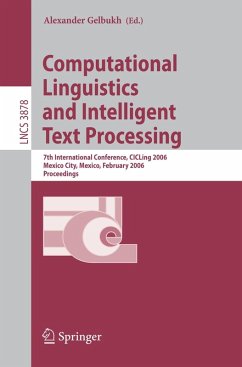 Andere Kunden interessierten sich
auch
für
---
Dieser Download kann aus rechtlichen Gründen nur mit Rechnungsadresse in A, B, BG, CY, CZ, D, DK, EW, E, FIN, F, GR, HR, H, IRL, I, LT, L, LR, M, NL, PL, P, R, S, SLO, SK ausgeliefert werden.
Produktdetails
Verlag: Springer-Verlag GmbH
Seitenzahl: 572
Erscheinungstermin: 21. Januar 2006
Englisch
ISBN-13: 9783540322061
Artikelnr.: 43885298
Computational Linguistics Research.
Integrating Semantic Frames from Multiple Sources.
Making Senses: Bootstrapping Sense
Tagged Lists of Semantically
Related Words.
Enriching Wordnets with New Relations and with Event and Argument Structures.
Experiments in Cross
Language Morphological Annotation Transfer.
Sentence Segmentation Model to Improve Tree Annotation Tool.
Markov Cluster Shortest Path Founded Upon the Alibi
Breaking Algorithm.
Unsupervised Learning of Verb Argument Structures.
A Methodology for Extracting Ontological Knowledge from Spanish Documents.
Automatically Determining Allowable Combinations of a Class of Flexible Multiword Expressions.
Web
Based Measurements of Intra
collocational Cohesion in Oxford Collocations Dictionary.
Probabilistic Neural Network Based English
Arabic Sentence Alignment.
Towards the Automatic Lemmatization of 16th Century Mexican Spanish: A Stemming Scheme for the CHEM.
Word Frequency Approximation for Chinese Without Using Manually
Annotated Corpus.
Abbreviation Recognition with MaxEnt Model.
An Efficient Multi
agent System Combining POS
Taggers for Arabic Texts.
A Comparative Evaluation of a New Unsupervised Sentence Boundary Detection Approach on Documents in English and Portuguese.
A General and Multi
lingual Phrase Chunking Model Based on Masking Method.
UCSG Shallow Parser.
Evaluating the Performance of the Survey Parser with the NIST Scheme.
Sequences of Part of Speech Tags vs. Sequences of Phrase Labels: How Do They Help in Parsing?.
Verb Sense Disambiguation Using Support Vector Machines: Impact of WordNet
Extracted Features.
Preposition Senses: Generalized Disambiguation Model.
An Unsupervised Language Independent Method of Name Discrimination Using Second Order Co
occurrence Features.
Extracting Key Phrases to Disambiguate Personal Names on the Web.
Chinese Noun Phrase Metaphor Recognition with Maximum Entropy Approach.
Zero Anaphora Resolution in Chinese Discourse.
Random Walks on Text Structures.
Shallow Case Role Annotation Using Two
Stage Feature
Enhanced String Matching.
SPARTE, a Test Suite for Recognising Textual Entailment in Spanish.
Analysis of a Textual Entailer.
Referring Via Document Parts.
Generation of Natural Language Explanations of Rules in an Expert System.
Generating a Set of Rules to Determine Honorific Expression Using Decision Tree Learning.
NLP (Natural Language Processing) for NLP (Natural Language Programming).
Balancing Transactions in Practical Dialogues.
Finite State Grammar Transduction from Distributed Collected Knowledge.
Predicting Dialogue Acts from Prosodic Information.
Disambiguation Based on Wordnet for Transliteration of Arabic Numerals for Korean TTS.
Intelligent Text Processing Applications.
MFCRank: A Web Ranking Algorithm Based on Correlation of Multiple Features.
On Text Ranking for Information Retrieval Based on Degree of Preference.
Lexical Normalization and Relationship Alternatives for a Term Dependence Model in Information Retrieval.
Web Search Model for Dynamic and Fuzzy Directory Search.
Information Retrieval from Spoken Documents.
Automatic Image Annotation Based on WordNet and Hierarchical Ensembles.
Creating a Testbed for the Evaluation of Automatically Generated Back
of
the
Book Indexes.
Automatic Acquisition of Semantic
Based Question Reformulations for Question Answering.
Using N
Gram Models to Combine Query Translations in Cross
Language Question Answering.
A Question Answering System on Special Domain and the Implementation of Speech Interface.
Multi
document Summarization Based on BE
Vector Clustering.
Deriving Event Relevance from the Ontology Constructed with Formal Concept Analysis.
A Sentence Compression Module for Machine
Assisted Subtitling.
Application of Semi
supervised Learning to Evaluative Expression Classification.
A New Algorithm for Fast Discovery of Maximal Sequential Patterns in a Document Collection.
A Machine Learning Based Approach for Separating Head from Body in Web
Tables.
Clustering Abstracts of Scientific Texts Using the Transition Point Technique.
Sense Cluster Based Categorization and Clustering of Abstracts.
Analysing Part
of
Speech for Portuguese Text Classification.
Improving kNN Text Categorization by Removing Outliers from Training Set.
Writing for Language
Impaired Readers.
Document Copy Detection System Based on Plagiarism Patterns.
Regional vs. Global Robust Spelling Correction.