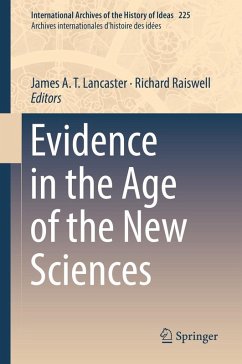 In this important new collection, Lancaster and Raiswell have assembled twelve studies that capture aspects of the debate over evidence in a variety of intellectual contexts. From law and theology to geography, medicine and experimental philosophy, the chapters highlight the great diversity of approaches to evidence-gathering that existed side by side in the sixteenth and seventeenth centuries. In this way, the volume makes an important addition to the literature on early science and knowledge formation, and will be of particular interest to scholars and advanced students in these fields.
---
Dieser Download kann aus rechtlichen Gründen nur mit Rechnungsadresse in A, B, BG, CY, CZ, D, DK, EW, E, FIN, F, GB, GR, HR, H, IRL, I, LT, L, LR, M, NL, PL, P, R, S, SLO, SK ausgeliefert werden.
Produktdetails
Verlag: Springer-Verlag GmbH
Erscheinungstermin: 24.10.2018
Englisch
ISBN-13: 9783319918693
Artikelnr.: 56819166
Chapter 1: Evidence and the Disciplines of Knowing in Early Modern Europe (James A.T. Lancaster).- Part I: Evidence & Method.- Chapter 2: Legal Proof and Probability in Early Modern England (Lisa Klotz).- Chapter 3: Seeking Intellectual Evidence in the Sciences: The Role of Botany in Descartes' Therapeutics (Fabrizio Baldassarri).- Chapter 4: Towards Descartes' Scientific Method of Doubt: a posteriori Evidence and The Rhetoric of Les Météores (Patrick Brissey).- Part II: Instruments of Evidence & Observation.- Chapter 5: Locke, Pyrard, and Coconuts: Travel Literature as Natural History (Patrick J. Connolly).- Chapter 6: The Visibility of the Romana Ecclesia: Cesare Baronio and the Disclosure of the Invisible (Filip Malesevic).- Chapter 7: From the divine monochord to the weather-glass: Changing perspectives in Robert Fludd's philosophy (Luca Guariento).- Chapter 8: Magical and Mechanical Evidence: The Late-Renaissance Automata of Francesco I de' Medici (Lily Filson).- Part III: Assessing & Assimilating Evidence in its Contexts.- Chapter 9: Searching for Mt. Carmel in the New World: Fray Antonio Vázquez de Espinosa and Confessional Geography (Ran Segev).- Chapter 10: Hutchinsonianism, Newtonian Science, and the Question of Evidence in a Fragmenting World (Robert L. Knetsch).- Chapter 11: Diet and Hygiene between Ethics and Medicine: The Reception of Alvise Cornaro's La Vita Sobria in Early XVII Century England (Federico Bellini).- Chapter 12: Prognostic birds and vulgar errors. Popular naturalism in early modern England, 1550-1800 (Jennifer Mori).