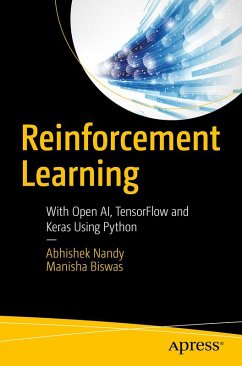 Andere Kunden interessierten sich
auch
für
Produktdetails
Verlag: Springer, Berlin; Apress
Artikelnr. des Verlages: 978-1-4842-3284-2
1st ed.
Seitenzahl: 184
Erscheinungstermin: 8. Dezember 2017
Englisch
Abmessung: 235mm x 155mm x 10mm
Gewicht: 310g
ISBN-13: 9781484232842
ISBN-10: 1484232844
Artikelnr.: 49203796
Chapter 1: Reinforcement Learning basics Chapter Goal: This chapter covers the basics needed for AI,ML and Deep Learning.Relation between them and differences. No of pages 30 Sub -Topics 1. Reinforcement Learning 2. The flow 3. Faces of Reinforcement Learning 4. 5. Environments6. The depiction of inter relation between Agents and EnvironmentDeep Learning
Chapter 2: Theory and AlgorithmsChapter Goal :This Chapter covers the theory of Reinforcement Learning and Algorithms. No of pages : 60 Sub-topics 1 . Problem scenarios in Reinforcement Learningins
2. Markov Decision process 3. SARSA 4.Q learning 5.Value Functions 6.Dynamic Programming and Policies 7.Approaches to RL
Chapter 3: Open AI basics Chapter Goal: In this chapter we will cover the basics of Open AI gym and universe and
then move forward for installing it.
No of pages: 40
Sub - Topics:
1. What are Open AI environments
2. Installation of Open AI Gym and Universe in Ubuntu
3. Difference between Open AI Gym and Universe

Chapter 4: Getting to know Open AI and Open AI gym the developers way Chapter Goal: We will use Python to start the programming and cover topics accordingly No of pages: 60 Sub - Topics: 1. Open AI,Open AI Gym and python 2. Setting up the environment 3. Examples 4 Swarm Intelligence using python
5.Markov Decision process toolbox for Python 6.Implementing a Game AI with Reinforcement Learning
Chapter 5: Reinforcement learning using Tensor Flow environment and Keras Chapter Goal: We cover Reinforcement Learning in terms of Tensorflow and Keras N o of pages: 40 Sub - Topics: 1. Tensorflow and Reinforcement Learning 2. Q learning with Tensor Flow 3. Keras 4. Keras and Reinforcement Learning
Chapter 6 Google's DeepMind and the future of Reinforcement Learning Chapter Goal: We cover the descriptions of the above the content. No of pages: 25 Sub - Topics: 1. Google's Deep Mind 2. Future of Reinforcement Learning 3. Man VS Machines where is it Heading to.