Nicht lieferbar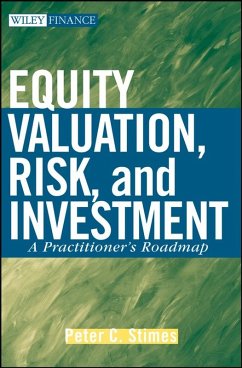 Andere Kunden interessierten sich
auch
für
Produktdetails
Wiley Finance Editions
Verlag: Wiley & Sons
Artikelnr. des Verlages: 14522640000
Seitenzahl: 279
Erscheinungstermin: Februar 2008
Englisch
Abmessung: 235mm x 154mm x 26mm
Gewicht: 490g
ISBN-13: 9780470226407
ISBN-10: 0470226404
Artikelnr.: 23065459
Foreword.
Preface.
About the Author.
Chapter 1. Introduction.
Chapter 2. Inflation Protected Bonds as a Valuation Template.
Chapter 3. Valuing Uncertain, Perpetual Income Streams.
Chapter 4. Valuing a Leveraged Equity Security.
Chapter 5. Case Studies in Valuation during the Recent Decade.
Chapter 6. The Treatment of Mergers and Acquisitions.
Chapter 7. A Fair Representation? Broad Sample Testing Over a Ten-Year Market Cycle.
Chapter 8. Price Volatility and Underlying Causes.
Chapter 9. Constructing Efficient Portfolios.
Chapter 10. Selecting among Efficient Portfolios; Making Dynamic Rebalancing Adjustments.
Chapter 11. How Did We Arrive Here Historically? Where Might We Go Prospectively?
Appendix A. Mathematical Review of Growth Rates for Earnings, Dividends, and Book Value per Share.
Appendix B. Sustainable and Non-Sustainable Inflation Rates.
Appendix C. Deriving the "Equity Duration" Formula.
Appendix D. The Traditional Growth/Equity Valuation Formula.
Appendix E. Adjustments Required to the Traditional Growth/Equity Valuation Formula in Order to Preserve Inflation Neutrality.
Appendix F. Brief Recapitulation of the Miller 1977 Capital Structure Irrelevance Theorem.
Appendix G. Time Series Charts of Un-leveraged, Inflation Adjusted Discount Rate Estimates.
Appendix H. Comparison of Volatility of Pre-Tax and After-Tax Income.
Appendix I. Relationship between Observed P/E Ratios and Nominal Interest Rates.
Appendix J. Additional Background on Mathematical Optimization Subject to Constraint Conditions.
Appendix K. Derivation of Asset Class Covariances.
Appendix L. Expected Return and Variance/Covariance Inputs Underlying Chapter 9 and Chapter 10 Portfolio Examples.
Bibliography.
Index.