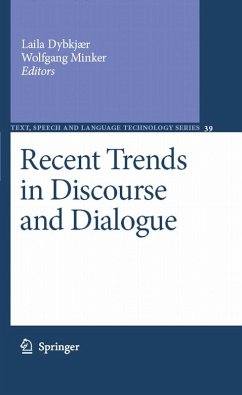 Andere Kunden interessierten sich
auch
für
---
Dieser Download kann aus rechtlichen Gründen nur mit Rechnungsadresse in A, B, BG, CY, CZ, D, DK, EW, E, FIN, F, GR, HR, H, IRL, I, LT, L, LR, M, NL, PL, P, R, S, SLO, SK ausgeliefert werden.
Produktdetails
Verlag: Springer-Verlag GmbH
Erscheinungstermin: 13. Februar 2008
Englisch
ISBN-13: 9781402068218
Artikelnr.: 37339366
Preface.- Contributing Authors.- Trends and Challenges in Discourse and Dialogue by Laila Dybkjær and Wolfgang Minker.-
Chapter 1 Where Do We Go From Here? By Roberto Pieraccini and Juan M. Huerta.-
Chapter 2 Designing Speech-controlled Media File Selection for Automotive Systems by Yu-Fang H.Wang and Stefan W. Hamerich.-
Chapter 3 A Virtual Human Dialogue Model for Non-Team Interaction by David Traum, William Swartout, Jonathan Gratch and Stacy Marsella.-
Chapter 4 Evaluating Interactions with Spoken Dialogue Telephone Services by Sebastian Möller.-
Chapter 5 Handling Miscommunication: Why Bother? By Michael McTear.-
Chapter 6 Sorry I Didn't Catch That! By Dan Bohus and Alexander I. Rudnicky.-
Chapter 7 GALATEA: A Discourse Modeller Supporting Concept-Level Error Handling in Spoken Dialogue Systems by Gabriel Skantze.-
Chapter 8 Partially Observable Markov Decision Processes with Continuous Observations for Dialogue Management by Jason D. Williams, Pascal Poupart and Steve Young.-
Chapter 9 Does This Answer Your Question? By Matthias Denecke and Norihito Yasuda.-
Chapter 10 Meeting Structure Annotation by Alexander Gruenstein, John Niekrasz and Matthew Purver.-
Chapter 11 Analyzing Dependencies between Student Certainness States and Tutor Responses in a Spoken Dialogue Corpus by Kate Forbes-Riley and Diane J. Litman.-
Abbreviations.- Index.
From the reviews:

"Recent trends in discourse and dialogue is essential for research libraries in companies or teaching institutions concerned with voice interaction design or with multimodal interaction design ... . The collection is an up-to-the-moment survey of the field by leading international researchers ... . The book is full of examples, data, and practical advice. ... Recent trends in discourse and dialogue is a significant contribution to the voice-interaction literature ... ." (Randy Harris, Technical Communication, Vol. 55 (4), November, 2008)