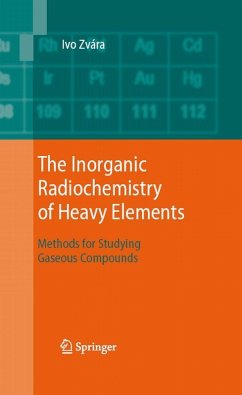 Andere Kunden interessierten sich
auch
für
---
Dieser Download kann aus rechtlichen Gründen nur mit Rechnungsadresse in A, B, BG, CY, CZ, D, DK, EW, E, FIN, F, GB, GR, HR, H, IRL, I, LT, L, LR, M, NL, PL, P, R, S, SLO, SK ausgeliefert werden.
Produktdetails
Verlag: Springer-Verlag GmbH
Erscheinungstermin: 24.01.2008
Englisch
ISBN-13: 9781402066023
Artikelnr.: 37355858
Experimental developments in inorganic gas phase radiochemistry: Early gas-solid chromatography studies.- Techniques for isolation of short-lived accelerator produced activities.- First laboratory simulation.- Experiments with s.f. nuclides on a heavy ion cyclotron.- Techniques for alpha-active nuclides with corrosive reagents.- Sample experiments.- Relative merit of the techniques based on IC and TC.- Recent techniques for alpha-active nuclides in non corrosive environment.- Hassium tetroxide thermochromatography.- Chemical identification of metallic element 112.- Future of radiochemistry studies of heavy metals.- Prospective classes of compounds.- Prospects for related groups of elements.- Separations in applied radiochemistry practice.- Physicochemical Fundamentals: Molecular kinetics.- Concentration and speed of gaseous molecules.- Number of collisions of molecules with the walls.- Collisions in gas phase and related rate of chemical interaction.- Diffusion in gases.- Elementary adsorption - desorption events.- Diffusional deposition of molecules and aerosols in channels.- Diffusion coefficients of aerosols.- Deposition in cylindrical tubes and rectangular channels from laminar flow.- Deposition from laminar and turbulent flow- engineering approach.- Statistical thermodynamics of adsorption.- General.- Mobile adsorption model.- Localized adsorption model. Production of transactinoid elements, synthesis and transportation of their compounds: Production of TAE in heavy ion induced reactions.- Recoil extraction from the target.- Thermalizing recoils.- Synthesis of volatile compounds.- Experimental findings about kinetics.- Chlorination in gas phase; kinetics and thermochemistry.- Synthesis of group 4 and 6 (oxo)chlorides.- Scavenging of impurities in the gas.- Deposition of nonvolatile elements and compounds from gas flow.- Aerosol stream for transportation of molecular entities. From gas-solid isothermal chromatography to thermochromatography: General considerations.- Theory.- Retention time in gas-solid IC.- Retention time in TC.- Peak shapes; general.- IC peaks.- TC peaks.- Simulation of IC and TC peak shape and position.- Monte Carlo simulation model.- Discrete event simulation; calculational procedure.- Sample results of simulations.- Vacuum thermochromatography.- Temperature of the VTC peak.- VTC as random walk problem.- Monte Carlo simulation of VTC. Evaluation and interpretation of experimental data: Evaluation of desorption energy / enthalpy from the experimental data.- Thermodynamic approach.- Molecular kinetic approach.- Statistical thermodynamic approach.- Non-trivial mechanisms of gas-solid chromatography.- Experimental adsorption enthalpies of heavy element compounds.- Results obtained by the second law treatment.- Results based on molecular kinetics and statistical thermodynamics.- True structure of the column surfaces.- Geometric structure of a fused silica surface.- Chemical modification of the surface of silica.- Effects of actual structure of column surface in experiments with TAE halides.- Analysis of poor-statistics data.- Bayesian approach to statistical treatment.- Sample situations.- Incomplete counting.- Adsorption enthalpy from an IC experiment.- Adsorption enthalpy from a TC experiment.- Systematic errors.
From the reviews:

"This is an interesting and well-prepared book. ... it covers, only the gas-phase chemistry of elements of atomic numbers greater than Z = 103. As a result, it will be of interest to ... readers of JACS. ... In the six brief chapters, the limited data are well evaluated and presented." (Gregory R. Choppin, Journal of the American Chemical Society, Vol. 130 (42), 2008)