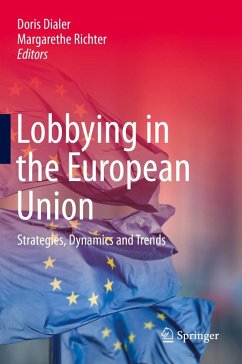 Andere Kunden interessierten sich
auch
für


Understanding the tools and techniques of effective lobbying, as well as the dynamics and trends in EU lobbying, will allow professionals involved in the lobbying process, such as policymakers and corporate and institutional stakeholders, to improve their performance and achieve better results when pursuing their respective interests.


Produktdetails
Verlag: Springer / Springer, Berlin
Artikelnr. des Verlages: 978-3-319-98799-6
1st ed. 2019
Seitenzahl: 472
Erscheinungstermin: 18. Januar 2019
Englisch
Abmessung: 241mm x 160mm x 31mm
Gewicht: 856g
ISBN-13: 9783319987996
ISBN-10: 3319987992
Artikelnr.: 53160186
1. Lobbying in Europe: Professionals, Politicians and Institutions under General Suspicion?.- Part I. Theoretical and Empirical Implications.- 2. Interest Representation in the EU: An open and structured dialogue?.- 3. Improving Interest Group Accountability. LogFrame: A Framework for Evaluating Lobbying Campaigns.- 4. International Dynamics in Lobbying Regulation.- 5. Informational Lobbying! Mechanisms of probity, dissembling, and transparency.- 6. Theoretical implications of the EU Funding of Advocacy Activities.- 7. Reshaping European Lobbying: How to be one step ahead?.- Part II. Influencing European Decision-Makers.- 8. Lobbyist's Appeal and Access to Decision-Makers: Case Study European Services Forum.- 9. Reconciling logics of Organizational behavior in EU public consultations.- 10. Lobbying in the European Parliament: Who tips the scales?.- 11 Lobbying in the EU Comitology System.- 12. Lobbying EU agencies from within: advocacy groups in Frontex Consultative Forum on fundamental rights.- 13. European Regions and their Interests.- Part III. Artists of Advocacy and Political Persuasion.- 14. Lobbying for "Big Food" - Mondel z International in Brussels.- 15. Lobbying and Economic Diplomacy in China.- 16 "Solidar" - NGO Advocacy for Social Justice in Europe.- 17. The European Consumer Organization. Pioneers in Advocacy and Lobbying.- 18. Promoting Ukrainian EU Interests: Partners, Donors and Stakeholders?.- Part IV. Scandals, Ethics and Transparency.- 19. The European Ombudsman: promoting a transparent and ethical EU administration.- 20. The European Union's Revolving Door Problem.- 21. Getting past the Lobby. The Alliance for Lobbying Transparency and Ethics Regulation (ALTER-EU).- 22. Legal and Ethical Rules in EU Decision-Making: "Soft Law" for Targets and Actors of Lobbying.- 23. Navigating the grey zones of third party lobbying via nonprofits: Transparify's experiences with think tanks and fake news.- Part V. Trade Agreements and Interest Representation.- 24. Outside Lobbying and the Politicization of the Transatlantic Trade and Investment Partnership.- 25. Shaping globalization: EU trade policy and the role of US business.- 26. The Representation of SME interests in the TTIP negotiations: A German case study.- 27. TTIP negotiations: interest groups, Anti-TTIP civil society campaigns and public opinion.- 28. Business Lobbying in international investment policy-making in Europe.- Part VI Trends and Perspectives.- 29. British Interest Representation in the EU after Brexit.- 30. Shaping Lobbying Impact. How everything from seating arrangements to natural disasters makes a difference.- 31. Lobbying and Interest Group Influence in EU Foreign Policy.- 32. Silicon Valley meets Brussels. ICT Lobbying on the fast lane.- 33. EU Think Tanks Lobbying Strategies. Why is their expertise more important than ever?