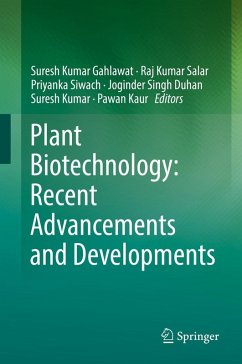 Andere Kunden interessierten sich
auch
für
---
Dieser Download kann aus rechtlichen Gründen nur mit Rechnungsadresse in A, B, BG, CY, CZ, D, DK, EW, E, FIN, F, GB, GR, HR, H, IRL, I, LT, L, LR, M, NL, PL, P, R, S, SLO, SK ausgeliefert werden.
Produktdetails
Verlag: Springer-Verlag GmbH
Erscheinungstermin: 31.05.2017
Englisch
ISBN-13: 9789811047329
Artikelnr.: 53060103
Chapter 1. Advances in Computational Tools for Plant microRNA Identification.- Chapter 2. Control of Gene Expression by RNAi: A Revolution in Functional Genomics.- Chapter 3. Engineering Abiotic Stress Tolerance Traits for Mitigating Climate Change.- Chapter 4. Developing Climate Smart Aerobic Rice Varieties for Addressing the Problems of Water Scarcity and Global Warming.- Chapter 5. Biotechnological Aspects for Enhancement of Mineral Bioavailability from Cereals and Legumes.- Chapter 6. Recent Biotechnological Approaches to Study Taxonomy of Legume Nodule Forming Rhizobia.- Chapter 7. Applications of Trichoderma Species for Environment and Food Security.- Chapter 8. Fermentation in Cereals: A Tool to Enhance Bioactive Compounds.- Chapter 9. Molecular Structure, Biological Functions and Metabolic Regulation of Flavonoids.- Chapter 10. Enzymatic Approaches for the Synthesis of High Fructose Syrup.- Chapter 11. Starch Nanoparticles and Their Applications.- Chapter 12. Recent Updates on Molecular Biotechnological Intervention in Isabgol.- Chapter 13. Flavonoids: A Nutraceutical and Its Role as Anti-inflammatory and Anti-cancer Agent.- Chapter 14. Recent Advances in Biodegradable Films, Coatings and their Applications.- Chapter 15. Bioplastics: A Sustainable Approach Towards Healthier Environment.- Chapter 16. Biotechnological Strategies for Remediation of Toxic Metal(loid)s from Environment.- Chapter 17. Genetic Engineering of Poplar: Current Achievements and Future Goals.