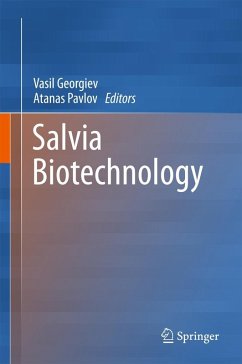 Andere Kunden interessierten sich
auch
für
However, the growing demand has led to overexploitation of natural habitats and in the last few years many wild growing Salvia species have shrunk or fallen under threat. Obviously, to deal with that problem and to prevent ecological crisis, there is an urgent need for alternative, renewable sources of Salvia biomass. Plant biotechnology can provide a wide range of tools for development of economically feasible continuous production of standardized valuable phytochemicals. Plant in vitro culture technology is a powerful method for continuous production of plant secondary metabolites under controlled conditions, recently adapted to various Salvia species. Salvia in vitro systems are harmless to natural plant populations and can be grown independently of environmental factors, geographical latitude, climatic change, and seasonal variations. Several bioactive metabolites from rare and endangered Salvia plants can be produced by employing different plant in vitro systems. However, the researches on development of large scale biotechnology, based on Salvia in vitro systems, are still in early stages and many points still have to be addressed before the commercialization to take place.
In this book we intend to summarize the recent achievements in research with Salvia in vitro systems as biological matrixes for the production of pharmaceutically important secondary metabolites. Further we invited leading experts to present their recent studies on phytochemistry, ethnobotanical and ethnophamacological aspects of genus Salvia. Safety and legal issues related to implementation of Salvia plants and in vitro cultures extracts in foods, cosmetics and pharmaceutical products will be discussed as well.
---
Dieser Download kann aus rechtlichen Gründen nur mit Rechnungsadresse in A, B, BG, CY, CZ, D, DK, EW, E, FIN, F, GB, GR, HR, H, IRL, I, LT, L, LR, M, NL, PL, P, R, S, SLO, SK ausgeliefert werden.
Produktdetails
Verlag: Springer-Verlag GmbH
Erscheinungstermin: 19.03.2018
Englisch
ISBN-13: 9783319739007
Artikelnr.: 53060290
PART I - SALVIA SPP. AS MEDICINAL AND AROMATIC PLANTS 1. Salvia spp: An updated on antioxidant activity and pharmacological uses" - Dr. Maria Porres-Martinez, (Complutense University of Madrid, Spain) 2. "European species of genus Salvia: secondary metabolites, pharmacological properties and biological activity" - Dr. Milena Nikolova and Dr. Ina Aneva, (Institute of Biodiversity and Ecosystem Research-BAS, Bulgaria) 3. "Chia - Tiny, but mighty" - Prof. Ram Rajasekharan and Malathi Srinivasan, (CSIR-Central Food Technological Research Institute, India) 4. "Composition of volatile compounds in Salvia sp., grown in Bulgaria and their biological activities" - T. Atanasova, P. Merdzhanov, A. Mrchev, V. Gochev, A. Pavlov, P. Bozov, A. Stoyanova, (University of Food technology, Bulgaria) 5. Screening of Salvia leaves surface microflora for lactobacteria with potential application in development of new high-quality functional dairy products. - Prof. Dora Beshkova, (The Stephan Angeloff Institute of Microbiology-BAS, Bulgaria) PART II - PHARMACOLOGICAL PROPERTIES OF SALVIA SSP. 6. "Anticancer activity of Salvia miltiorrhiza" - Prof. Thomas Efferth, (Institute of Pharmacy and Biochemistry, Johannes Gutenberg University, Mainz, Germany) 7. "Salvia divinorum a psychoactive plant with pharmacological potential" - Prof. Jordan Zjawiony, (University of Mississippi , USA) 8. "Bioactive Constituents of Anatolian Salvia Species" - Prof. Gülaçti Topçu, (Bezmialem Vakif University, Turkey) PART III - BIOPROCESSING OF SALVIA IN VITRO SYSTEMS. 9. & nbsp; "Salvia cell culture: a terrific factory of bioactive compounds" - Dr. Teresa Docimo, (Institute of Biosciences and Bioresources, Italian National Council of Research, Portici, Italy) 10. "Optimization of the production of rosmarinic acid in Salvia officinalis and Salvia dolomitica cell biomass with several biotechnological approaches" - Prof. Barbara Ruffoni, Laura Pistelli, Luisa Pistelli and Laura Bassolino, (CREA - Unità di ricerca per la Floricoltura e le Specie Ornamentali, Italy) 11. "Bioactivities of differentiated Salvia in vitro cultures" - under correspondence 12. "Micropropagation of African Salvia species"- prof. Nokwanda Makunga (Stellenbosch University, South Africa) PART IV - METABOLIC ENGINEERING AND FUNCTIONAL GENOMICS OF SALVIA SSP. 13. "Molecular Markers in Salvia: Past, Present and Future" - Prof. Mehmet Karaca and Dr. Ayse Gul Ince, (Akdeniz University, Turkey) 14. "Genetic engineering and manipulation of metabolite pathways in Salvia plants"- under correspondence