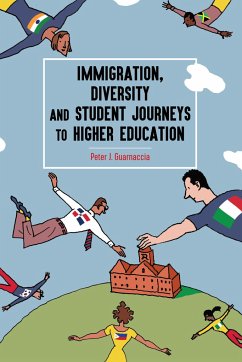 Immigration, Diversity and Student Journeys to Higher Education presents an in-depth understanding of how immigrant students at a major public research university balanced keeping their family cultures alive and learning U.S. culture to get to college. A revitalized anthropological understanding of acculturation provides the theoretical framework for the book. The text builds its analysis using extensive quotes from the 160 immigrant students who participated in the 21 focus groups that form the core of this study. The students' families come from Africa, Asia, the Caribbean, Europe and Latin America, and reflect a wide diversity of experiences and insights into how these students successfully pursued higher education. A key theme of the book is the "immigrant bargain," where students repay their parents' hard work and migration sacrifices by excelling in school. A large majority of the parents made clear that a major motivation for immigrating was so their children could have better educational opportunities; these parents had the original dreams for their children. Immigration, Diversity and Student Journeys to Higher Education examines the similarities and differences across this diverse group of students, ending with a series of recommendations about how to improve acculturation research and how to facilitate immigrant students' journeys to educational success.


Produktdetails
Equity in Higher Education Theory, Policy, and Praxis 9
Artikelnr. des Verlages: 315991
Erscheinungstermin: 8. Januar 2019
Englisch
Abmessung: 231mm x 155mm x 16mm
Gewicht: 384g
ISBN-13: 9781433159916
ISBN-10: 1433159910
Artikelnr.: 54771214
List of Figures - List of Tables - Alex Stepick: Foreword - Preface - Acknowledgments - Introduction: Why Are the Links Among Immigration, Acculturation and Educational Attainment Important? - Student Reflection: Growing up the "Filipino Way" - The Front Door as a Divider Between Two Worlds: Students' Explorations of Their Ethnic Identities - Student Reflection: Growing Up Bilingual - The Balancing Act of Speaking Multiple Languages: The Intimate Connection of Language to Culture - Student Reflection: Only Through Education Shall Humanity Progress - We Are Family: The Dreams of Immigrant Parents - Student Reflection: A Complex Path to College - Applying to College: "I Had to Figure It All Out Myself" - Community Sources of Cultural and Social Capital: The Roles of Ethnic Schools and Student Cultural Organizations - Conclusion: Where Do We Go from Here? - Appendix A: Focus Group Guide - Appendix B: List of All Codes with Memos and Coding Trees - Index.