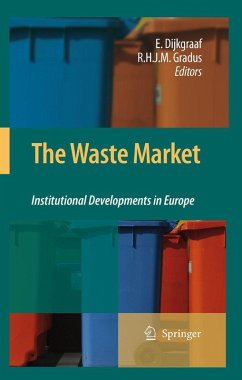 Andere Kunden interessierten sich
auch
für
---
Dieser Download kann aus rechtlichen Gründen nur mit Rechnungsadresse in A, B, BG, CY, CZ, D, DK, EW, E, FIN, F, GR, HR, H, IRL, I, LT, L, LR, M, NL, PL, P, R, S, SLO, SK ausgeliefert werden.
Produktdetails
Verlag: Springer-Verlag GmbH
Erscheinungstermin: 25.07.2008
Englisch
ISBN-13: 9781402087110
Artikelnr.: 37343847
1. Introduction.- 1.1 Empirical update of the waste collection market.- 1.2 Description and purpose of the book.- Reference list.- 2. Cost saving of contracting out refuse collection in the Netherlands.- 2.1 Introduction.- 2.2 Effects of tendering: Estimations for the Netherlands.- 2.2.1 Method.- 2.2.2 Data.- 2.2.3 Fiscal aspects.- 2.2.4 Results.- 2.3 Robustness of results.- 2.4 Conclusions.- Reference list.- 3. Contracting out refuse collection in the Netherlands.- 3.1 Introduction.- 3.2 Theoretical issues.- 3.3 Data.- 3.3.1 Institutional forms.- 3.3.2 Output variables.- 3.3.3 Wealth variables.- 3.3.4 Interest group variables.- 3.3.5 Political variables.- 3.4 Estimation results: logit.- 3.5 Robustness of results.- 3.6 Conclusions.- Reference list.- 4. Contracting out in Sweden: Ownership and production costs.- 4.1 Introduction.- 4.2 Data and the decision-making process.- 4.3 Models and estimation strategy.- 4.3.1 How it has usually been done.- 4.3.2 Why it may be wrong.- 4.3.3 How it could be done.- 4.4 Theoretical framework.- 4.5 Evidence: costs and producer choice.- 4.5.1 Representative sample.- 4.5.2 Producer choice.- 4.5.3 Cost functions.- 4.5.4 Producer choice taking costs into account.- 4.5.5 Model selection.- 4.6 Concluding remarks.- Reference list.- Appendix A: The data.- Appendix B: Maximum likelihood estimations.- 5. Does public ownership impair efficiency in Norwegian refuse collection?- 5.1 Introduction.- 5.2 Corporate governance versus political economy.- 5.2.1 Corporate governance theory.- 5.2.2 Political economy theory.- 5.2.3 Empirical studies on public ownership.- 5.3 Refuse collectio in Norwegian local government.- 5.4 The impact of dispersed ownership on costs and user charges.- 5.5. Conclusions.- Reference list.- 6. Refuse collection in Spain: Privatization, intermunicipal cooperation, and concentration.- 6.1 Introduction.- 6.2 The structureof the solid waste service production in Spain.- 6.3 Intermunicipal cooperation.- 6.4 Concentration and competition in the private market for concessions.- 6.5 Conclusions.- Reference list.- Appendix A.- 7. How to get increasing competition in the Dutch refuse collection market?- 7.1 Introduction.- 7.2 Development of the Dutch Refuse Collection Market over time.- 7.3 Methodology and data.- 7.4 Results.- 7.5 Conclusions.- Reference list.- 8. Dutch cost savings in unit-based pricing of household waste.- 8.1 Introduction.- 8.2 Effects of unit-based pricing.- 8.2.1 Method and data.- 8.2.2 Results.- 8.2.3 The price elasticities of the pricing systems.- 8.3 The importance of environmental activism.- 8.4 The effect on surrounding municipalities.- 8.5 Administrative costs and illegal dumping.- 8.6 Conclusions.- Reference list.- Appendix A: Definition of variables.- 9. Assessing instruments for mixed household solid waste collection services in Flanders.- 9.1 Introduction.- 9.2 Waste management instruments.- 9.2.1 Pecuniary incentives.- 9.2.2 Service level.- 9.2.3 Municipality specific characteristics.- 9.2.4 Waste reduction and prevention.- 9.2.5 Objective.- 9.3 Conceptual framework.- 9.4 Methodology and data collection.- 9.5 Results and discussion.- 9.6 Conclusions and future research topics.- Reference list.- 10. Final comments and future research.- 10.1 Final comments.- 10.2 Future reseach.- References list.- Index.
From the reviews:

"This specialized work on the topic of solid waste collection management in five European countries consists of eight substantive chapters: four on Holland and one each on Sweden, Norway, Spain, and Belgium. ... for those concerned with the efficiency of municipal operations ... this work, edited by academicians from the Netherlands, is a valuable resource containing much food for thought. Summing Up: Recommended. Comprehensive graduate, research, and professional collections." (J. Prager, Choice, Vol. 46 (11), July, 2009)