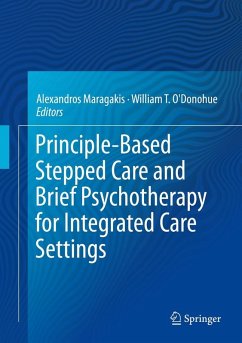 Depression.
Anxiety disorders.
Adherence to chronic obstructive pulmonary disorder management.
Alcohol and other substance misuse.
Attention deficit hyperactivity disorder.
Chronic pain.
Neurocognitive disorders.
Paraphilias: problematic sexual interests.[WU3]
Sexual abuse and PTSD in children.
A solid roadmap for widescale reform, Principle-Based Stepped Care and Brief Psychotherapy for Integrated Care Settings is deeply informative reading for health psychologists, social workers, psychiatrists, and clinical psychologists. It also clarifies the research agenda for those seeking improvements in healthcare quality and delivery and patient satisfaction.
---
Dieser Download kann aus rechtlichen Gründen nur mit Rechnungsadresse in A, B, BG, CY, CZ, D, DK, EW, E, FIN, F, GB, GR, HR, H, IRL, I, LT, L, LR, M, NL, PL, P, R, S, SLO, SK ausgeliefert werden.
Produktdetails
Verlag: Springer-Verlag GmbH
Erscheinungstermin: 13.02.2018
Englisch
ISBN-13: 9783319705392
Artikelnr.: 52942674
Introduction: the need for principle-based stepped care in integrated care settings.- Depression.- Generalized anxiety disorder.- Pain disorder.- Social anxiety disorder.- Bereavement.- Suicide.- Obsessive-compulsive disorder.- Substance abuse.- Conduct disorder.- Nocturnal enuresis.- Encopresis.- School refusal.- Sexual trauma.- Chronic pain.- Eating disorders.- Adult insomnia and other sleep disorders.- Smoking.- Obesity.- Sexual dysfunction.- Marital problems.- Intimate partner and domestic violence.- Medication adherence.- Multicultural considerations.- Oppositional defiant disorders.- Tics.- Agoraphobia.- Bipolar disorder.- Borderline personality disorder.- Child physical abuse.- Dementia.- Delusional thinking.- Erectile dysfunction.- Gambling disorder.- Hypochondriasis.- Intermittent explosive disorder.- Irritable bowel syndrome.- Treating Low Sexual Desire Disorder in Integrated Settings.- Nail biting.- Nonadherece to treatment.- Pediatric feeding disorders.- Pediatric insomnia.- Pica.- Premenstrual syndrome.- Post-traumatic stress disorder.- Recurrent headaches.- Schizophrenia.- Self-injrious behavior.- Separatoin anxiety disorder.- Sexual pain disorders.- Specific phobias.- Sleep terrors.- Smoking.- Stress.- Thumb sucking.- Diabetes.- Adherence to chronic obstructive pulmonary disease.- Food aversion from cancer treatment.- HIV/AIDS interventions.- Conclusion.
"This book explores brief mental health treatment within integrated health settings for various problems such as depression, anxiety, substance abuse, chronic pain, and sexual abuse in children. ... The intended audience includes health psychologists, social workers, psychiatrists, and clinical psychologists. ... This useful book provides short-term psychological interventions for 39 different problems/conditions." (Gary B. Kaniuk, Doody's Book Reviews, May, 2018)