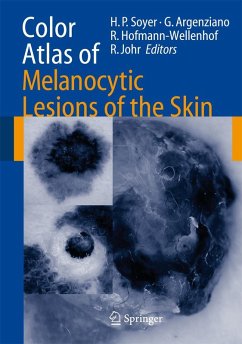 Andere Kunden interessierten sich
auch
für
---
As essential a text for GPs as for dermatologists, this book is an atlas-like representation of the various forms of melanocytic skin lesions associated with cutaneous melanomas and other pigmented skin tumors. It is a comprehensive and up-to-date text on the practical issues surrounding the management of individuals with these lesions. It encompasses the classical methods of morphology such as the clinical and dermoscopic examination and dermatopathology. The book also deals with the most up-to-date diagnostic approaches such as laser scanning in-vivo microscopy and automated diagnosis. The visual 'atlas' includes superb clinical, dermoscopic and histopathologic images.


Produktdetails
Verlag: Springer / Springer, Berlin
Artikelnr. des Verlages: 11538943, 978-3-540-35105-4
Erscheinungstermin: September 2007
Englisch
Abmessung: 250mm x 175mm x 24mm
Gewicht: 752g
ISBN-13: 9783540351054
ISBN-10: 3540351051
Artikelnr.: 20879617
The Morphologic Dimension in the Diagnosis of Melanocytic Skin Lesions.- Clinical Examination of Melanocytic Neoplasms Including ABCDE Criteria.- Dermoscopic Examination.- Melanoma: the Morphological Dimension.- Laser-Scanning Confocal Microscopy.- Automatic Diagnosis.- Multispectral Image Analysis.- Teledermatology.- The Life of Melanocytic Nevi.- Acral Nevus.- Agminated Nevus.- Blue Nevus.- Atypical (Dysplastic) Nevus.- Combined Nevus.- Common Nevus.- Congenital Melanocytic Nevi.- Melanocytic Nevi on the Genitalia and Melanocytic Nevi on Other Special Locations.- Halo Nevus.- Irritated Nevus and Meyerson's Nevus.- Melanocytic Lesions in Darker Racial Ethnic Groups.- Miescher Nevus.- Nevi with Particular Pigmentation: Black, Pink, and White Nevus.- Recurrent Nevus.- Spitz Nevus and Its Variants.- Syndromes Involving Melanocytic Lesions.- Nail Apparatus Nevus (Subungual Nevus, Nail Matrix Nevus).- Unna Nevus.- Epidemiology of Melanoma.- Acral Melanoma.- Amelanotic Melanoma.- Early Evolution of Melanoma (Small-Diameter Melanoma).- False-Negative Melanomas.- Genital Melanoma.- Melanoma of the Face.- Melanoma of the Trunk and Limbs Including Superficial and Nodular Melanoma.- Cutaneous Metastatic Melanoma.- Scalp Melanoma.- Nail Apparatus Melanoma (Subungual Melanoma, Nail Matrix Melanoma).- Pigmented Basal Cell Carcinoma.- Dermatofibroma.- Lentigines Including Lentigo Simplex, Reticulated Lentigo and Actinic Lentigo.- Squamous Cell Carcinoma Including Actinic Keratosis, Bowen's Disease, Keratoacanthoma, and Its Pigmented Variants.- Vascular Lesions.- Seborrheic Keratosis Including Lichen Planus-like Keratosis.
From the reviews:

"The purpose is to teach dermatologists how to increase diagnostic accuracy of pigmented lesions, especially melanoma, by using the dermatoscope. ... The audience is dermatologists and dermatology residents. ... This is definitely a valuable reference at a reasonable price. I would recommend reading it from cover to cover." (Patricia Wong, Doody's Review Service, March, 2009)