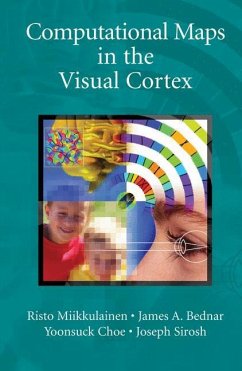 Produktdetails
Verlag: Springer, Berlin
2005
Seitenzahl: 572
Erscheinungstermin: 9. August 2005
Englisch
Abmessung: 235mm x 155mm x 40mm
Gewicht: 1185g
ISBN-13: 9780387220246
ISBN-10: 0387220240
Artikelnr.: 14166321
Biological Background.- Computational Foundations.- LISSOM: A Computational Map Model of V1.- Development of Maps and Connections.- Understanding Plasticity.- Understanding Visual Performance: The Tilt Aftereffect.- HLISSOM: A Hierarchical Model.- Understanding Low-Level Development: Orientation Maps.- Understanding High-Level Development: Face Detection.- PGLISSOM: A Perceptual Grouping Model.- Temporal Coding.- Understanding Perceptual Grouping: Contour Integration.- Computations in Visual Maps.- Scaling LISSOM simulations.- Discussion: Biological Assumptions and Predictions.- Future Work: Computational Directions.- Conclusion.
From the reviews:

"An increasingly important technique used by basic scientists to understand brain development and function is theoretical/computational modeling. … Computational Maps in the Visual Cortex provides a good review of this area, though strongly emphasizing the models developed over the past several years by Miikkulainen's group in the Computer Science department at the University of Texas. … the book will be a useful reference for researchers interested in theoretical approaches for understanding certain properties of the visual cortex." (Geoffrey J. Goodhill, Clinical Experimental Ophthalmology, Issue 34, 2006)

"The hardcover book of 24.2×16.3×3 cm size presents a comprehensive, unified computational theory of the visual cortex as a laterally connected self-organizing map … . All chapters are clearly structured and well written. With more than 170 figures, 47 in full color, the chapters are richly illustrated. … The book is written for computational scientists and neuroscientists working in the field of the visual cortex. The book will be a valuable complement to every scientific library." (R. M. Müri, Graefe's Archive for Clinical and Experimental Ophthalmology, Vol. 245, 2007)