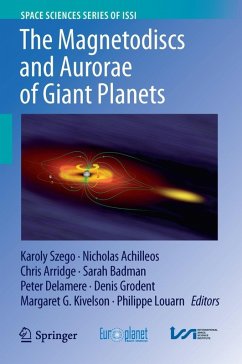 Readers will find grouped together here the most recent observations, current theoretical models and present understanding of the coupled atmosphere, magnetosphere and solar wind system. The book begins with a general discussion of mass, energy and momentum transport in magnetodiscs. The physics of partially ionized plasmas of the giant planet magnetodiscs is of general interest throughout the field of space physics, heliophysics and astrophysical plasmas; therefore, understanding the basic physical processes associated with magnetodiscs has universal applications. The second chapter characterizes the solar wind interaction and auroral responses to solar wind driven dynamics. The third chapter describes the role of magnetic reconnection and the effects on plasma transport. Finally, the last chapter characterizes the spectral and spatial properties of auroral emissions, distinguishing between solar wind drivers and internal driving mechanisms. The in-depth reviews provide an excellent reference for future research in this discipline.


---
Dieser Download kann aus rechtlichen Gründen nur mit Rechnungsadresse in A, B, BG, CY, CZ, D, DK, EW, E, FIN, F, GB, GR, HR, H, IRL, I, LT, L, LR, M, NL, PL, P, R, S, SLO, SK ausgeliefert werden.
Produktdetails
Verlag: Springer-Verlag GmbH
Erscheinungstermin: 14.10.2015
Englisch
ISBN-13: 9781493933952
Artikelnr.: 43956864
Giant Planet Magnetodiscs and Aurorae: An Introduction.- Planetary Magnetodiscs: Some Unanswered Questions.- A brief review of ultraviolet auroral emissions on giant planets.- Solar wind and internally driven dynamics: influences on magnetodiscs and auroral responses.- Auroral Processes at the Giant Planets: Energy Deposition, Emission Mechanisms, Morphology and Spectra.- Magnetic reconnection and associated transient phenomena within the magnetospheres of Jupiter and Saturn.- Transport of Mass, Momentum and Energy in Planetary Magnetodisc Regions.- Sources of local time asymmetries in magnetodiscs.