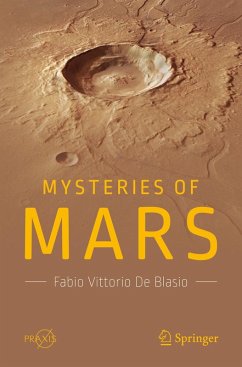 Andere Kunden interessierten sich
auch
für
The book will appeal especially to general readers interested in planetary sciences, astronomy, astrogeology, and space exploration and to students of Earth Sciences and Natural and Environmental Sciences. The higher-level material on the remaining mysteries of Mars will also be of interest to astrogeologists and other researchers.


---
Dieser Download kann aus rechtlichen Gründen nur mit Rechnungsadresse in A, B, BG, CY, CZ, D, DK, EW, E, FIN, F, GR, HR, H, IRL, I, LT, L, LR, M, NL, PL, P, R, S, SLO, SK ausgeliefert werden.
Produktdetails
Verlag: Springer-Verlag GmbH
Seitenzahl: 189
Erscheinungstermin: 28. September 2018
Englisch
ISBN-13: 9783319747842
Artikelnr.: 54140133
which divides so sharply the North from the South of Mars?.- The giant impact basins on Mars.- Technical box: Impact cratering on Earth and Mars.- Valles Marineris.- Mistery No. 4: How were the Valles Marineris formed?.- The volcanoes of Mars.- Technical: Volcanic eruptions on Earth and Mars.- Mystery No. 5: Enigmatic mountains and mysterious geological formations (the strange arc of Acheron, the halos of Olympus Mons, Vastitas Borealis and Medusae Fossae formations).- Part IV: an exhibition of martian images.- Fractures.- Ice-related landforms.- Technical box: Optical images, infrared, radar maps. How data are acquired from remote sensing.- Catastrophic landslides.- Mystery No. 6: Great Ice age on Mars ?.- Morphologies due to wind.- Morphologies due to water.- Mystery No. 7: Was there an ocean on Mars?.- Breathtaking views.- Mystery No. 8: The enigmatic outflow channels.- Part V: The atmosphere, climate and life on Mars.- The atmosphere of Mars.- Dust devils.- The atmosphere of Mars.- The ice caps.- Mystery No. 9: How has the atmosphere of Mars changed? And what happened to the once abundant water ?.- The search for life on Mars.- Martian meteorites.- Mystery No. 10: Is there or was there life on Mars ?.- Ancient civilization on Mars ?.- Upcoming missions to Mars.- How to get to Mars and back.- Colonize Mars ?.- Terraforming.- Technical appendices.- Martian data.- Planitiae, Fossae, Terrae: Nomenclature of planetary geology.- Missions to: past, current, future.
"This slender volume offers a useful, quick study on Mars. ... The book is richly illustrated in both black and white and color. It is written in an accessible style that is thoroughly peppered with fact after fact; De Blasio offers plenty to intrigue readers about one of Earth's closest neighbors." (P. K. Strother, Choice, Vol. 56 (10), June, 2019)