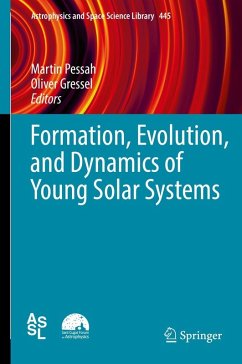 Andere Kunden interessierten sich
auch
für
The chapters 'Chondrules - Ubiquitous Chondritic Solids Tracking the Evolution of the Solar Protoplanetary Disk', 'Dust Coagulation with Porosity Evolution' and 'The Emerging Paradigm of Pebble Accretion' are published open access under a CC BY 4.0 license via link.springer.com.
---
Dieser Download kann aus rechtlichen Gründen nur mit Rechnungsadresse in A, B, BG, CY, CZ, D, DK, EW, E, FIN, F, GR, HR, H, IRL, I, LT, L, LR, M, NL, PL, P, R, S, SLO, SK ausgeliefert werden.
Produktdetails
Verlag: Springer-Verlag GmbH
Seitenzahl: 374
Erscheinungstermin: 4. Dezember 2017
Englisch
ISBN-13: 9783319606095
Artikelnr.: 53057967
Tracing the Ingredients of Habitable Worlds.- Planet Traps and the Composition of Exoplanetary Populations.- Towards a Global Evolutionary Picture of Protoplanetary Disks.- The ALMA revolution: gas and dust in planet-forming disks.- Evolution of the first embryos in protoplanetary disks: Confronting models and observations.- The gas content of protoplanetary disks.- Formation and long-term behavior of the solar system bodies.- planet formation mechanisms.- Collisional evolution of planetesimals.- Paleomagnetic measurements in meteorites.- Debris Disks.- Accreting Protoplanetary and Circumplanetary Disks.- Spirals, Gaps, and Cavities: Signposts of Forming Planets in Protoplanetary Disks?.- planet formation in circumbinary systems.- Glimpsing the Composition Distribution of Short-Period Exoplanets.- Formation of close-in Kepler Planets.- Tidal star-planet interactions in hot Jupiter systems.- Insights into
Planet Formation from Transit Timing Variations.
"This is an excellent book with a collection of review articles on our current understanding pf the formation of planets and planetary system presented within an interdisciplinary context. ... This is a book useful to postgraduate students but also to researchers in the field who want to acquire a more holistic understanding of planet formation and expand their research horizons." Dimitris Stamatellos, The Observatory, Vol. 138 (1267), December, 2018)