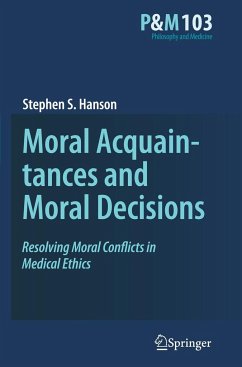 Produktdetails
Philosophy and Medicine Vol.103
Verlag: Springer Netherlands
Artikelnr. des Verlages: 80027025
Edition
Erscheinungstermin: November 2010
Englisch
Abmessung: 235mm x 156mm x 15mm
Gewicht: 289g
ISBN-13: 9789400705227
ISBN-10: 9400705220
Artikelnr.: 32108549
1: Justifying Moral Claims in a Pluralistic Society: Moral Disagreement in a Secular, Pluralistic Society; Definitions; The Problems of Concern in This Work; Three Attempts to Resolve Moral Problems; Is There Any Solution? 2: Engelhardt and the Content-Free (?) Principle of Permission:Engelhardt's Content-Free Theory; 'Content-Free' Ethics; 'Conclusion-Free' Ethics? Infants, Ownership, and Unconscious Persons; Case 2.1: Damned if You Do; Case 2.2: Problems with Ownership; Case 2.3: 'Semi-Persons'? The Limitations of Contracts; The Second Argument - A More Minimal Ethical Grammar; Wanted: Moral Analysis; The Rejection of Force; The Argument from Intellectual Authority; The Argument From Praise and Blame; The Principle of Reason-Giving; Back to Nihilism?3: The Four-Principles Approach: An Appeal to the Common-Morality for Resolution and Justification: Why These Principles? Two Versions of the Common Morality; Conflict of Principles, Balancing, and Specification; Case 3.1: A Refusal to Donate; Specification of Principles; The Objections of Clouser, Gert, and Green; Specification and Reflective Equilibrium as a Response; A Further Difficulty; Specification and (Lack of) Universal Agreement; Differing Specifications in a Pluralistic Society; Justification of Actions on the Principles Approach;4: Casuistry in a Pluralistic Society: How Casuistry Works; Problems with Analogical Reasoning: Maxims and the Common Morality; The Existence of Commonly Held Paradigms and Their Limitations; Further Troubles: The Problem of Hidden Assumptions and Values; A Possible Response: Medicine Provides the Maxims; 5: Moral Acquaintanceships as a Means of Conflict Resolution: The (Limited) Usefulness of Principle-based Theory; Principle-based Resolutions in Pluralistic Settings; Where Do We Go From Here? Moral Friends and Moral Acquaintances; Three Non-Rival Versions of Moral Acquaintanceships; The Separation of the Moral and the Social; MoralChoices in a Social Context; Moral Community, Moral Friendship, and Moral Acquaintance; A Challenge; Moral Acquaintanceships and the Mini-Culture of Medical Cases; Conclusion.Bibliography; Index.
---
1: Justifying Moral Claims in a Pluralistic Society: Moral Disagreement in a Secular, Pluralistic Society; Definitions; The Problems of Concern in This Work; Three Attempts to Resolve Moral Problems; Is There Any Solution? 2: Engelhardt and the Content-Free (?) Principle of Permission:Engelhardt's Content-Free Theory; 'Content-Free' Ethics; 'Conclusion-Free' Ethics? Infants, Ownership, and Unconscious Persons; Case 2.1: Damned if You Do; Case 2.2: Problems with Ownership; Case 2.3: 'Semi-Persons'? The Limitations of Contracts; The Second Argument - A More Minimal Ethical Grammar; Wanted: Moral Analysis; The Rejection of Force; The Argument from Intellectual Authority; The Argument From Praise and Blame; The Principle of Reason-Giving; Back to Nihilism?3: The Four-Principles Approach: An Appeal to the Common-Morality for Resolution and Justification: Why These Principles? Two Versions of the Common Morality; Conflict of Principles, Balancing, and Specification; Case 3.1: A Refusal
From the reviews: "This book engages and criticizes three major theories of moral justification: Engelhardt's permission-based ethic, Beauchamp and Childress' principlism, and Johnson and Toulmin's casuist ethics. The author's treatment of each of these theories is reasonably thorough … . The book is intended for those who want to engage seriously the idea of moral justification in the face of deep, rational moral pluralism. It is a satisfying read for those familiar with the theories he engages." (Nathaniel J. Brown, Doody's Review Service, January, 2010)