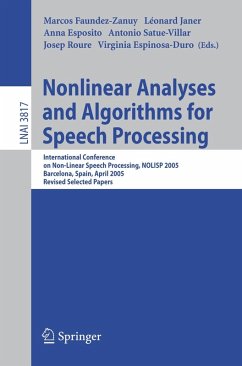 Andere Kunden interessierten sich
auch
für
---
Dieser Download kann aus rechtlichen Gründen nur mit Rechnungsadresse in A, B, BG, CY, CZ, D, DK, EW, E, FIN, F, GR, HR, H, IRL, I, LT, L, LR, M, NL, PL, P, R, S, SLO, SK ausgeliefert werden.
Produktdetails
Verlag: Springer-Verlag GmbH
Seitenzahl: 384
Erscheinungstermin: 8. Februar 2006
Englisch
ISBN-13: 9783540325864
Artikelnr.: 44132766
The COST-277 European Action: An Overview.- The COST-277 European Action: An Overview.- Neuro-fuzzy Logic in Signal Processing for Communications: From Bits to Protocols.- Connected Operators for Signal and Image Processing.- Speaker Recognition.- Exploiting High-Level Information Provided by ALISP in Speaker Recognition.- MLP Internal Representation as Discriminative Features for Improved Speaker Recognition.- Weighting Scores to Improve Speaker-Dependent Threshold Estimation in Text-Dependent Speaker Verification.- Parameter Optimization in a Text-Dependent Cryptographic-Speech-Key Generation Task.- The COST-277 Speech Database.- Speech Analysis.- Children's Organization of Discourse Structure Through Pausing Means.- F0 and Intensity Distributions of Marsec Speakers: Types of Speaker Prosody.- A Two-Level Drive - Response Model of Non-stationary Speech Signals.- Advanced Methods for Glottal Wave Extraction.- Cepstrum-Based Estimation of the Harmonics-to-Noise Ratio for Synthesized and Human Voice Signals.- Pseudo Cepstral Analysis of Czech Vowels.- Bispectrum Estimators for Voice Activity Detection and Speech Recognition.- Voice Pathologies.- On the Acoustic-to-Electropalatographic Mapping.- Issues in Clinical Applications of Bilateral Multi-step Predictive Analysis of Speech.- Optimal Size of Time Window in Nonlinear Features for Voice Quality Measurement.- Support Vector Machines Applied to the Detection of Voice Disorders.- Synthesis of Disordered Voices.- Voice Pathology Detection by Vocal Cord Biomechanical Parameter Estimation.- Speech Recognition.- A Speech Recognizer Based on Multiclass SVMs with HMM-Guided Segmentation.- Segment Boundaries in Low Latency Phonetic Recognition.- Third-Order Moments of Filtered Speech Signals for Robust Speech Recognition.- New Sub-band Processing Framework Using Non-linear Predictive Models for Speech Feature Extraction.- Noise Robust Automatic Speech Recognition with Adaptive Quantile Based Noise Estimation and Speech Band Emphasizing Filter Bank.- Spotting Multilingual Consonant-Vowel Units of Speech Using Neural Network Models.- Speech Enhancement.- Novel Sub-band Adaptive Systems Incorporating Wiener Filtering for Binaural Speech Enhancement.- Maximum a Posterior Probability and Cumulative Distribution Function Equalization Methods for Speech Spectral Estimation with Application in Noise Suppression Filtering.- Applications.- Modeling Fluctuations of Voiced Excitation for Speech Generation Based on Recursive Volterra Systems.- A Simple, Quasi-linear, Discrete Model of Vocal Fold Dynamics.- Blind Channel Deconvolution of Real World Signals Using Source Separation Techniques.- Method for Real-Time Signal Processing Via Wavelet Transform.