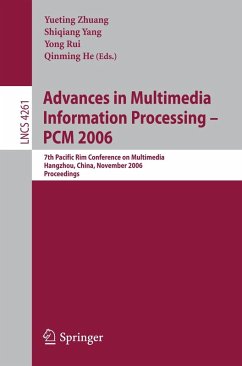 ---
Dieser Download kann aus rechtlichen Gründen nur mit Rechnungsadresse in A, B, BG, CY, CZ, D, DK, EW, E, FIN, F, GR, HR, H, IRL, I, LT, L, LR, M, NL, PL, P, R, S, SLO, SK ausgeliefert werden.
Produktdetails
Verlag: Springer-Verlag GmbH
Seitenzahl: 1042
Erscheinungstermin: 25. Oktober 2006
Englisch
ISBN-13: 9783540487692
Artikelnr.: 44127009
Expressive Speech Recognition and Synthesis as Enabling Technologies for Affective Robot-Child Communication.- Embodied Conversational Agents: Computing and Rendering Realistic Gaze Patterns.- DBN Based Models for Audio-Visual Speech Analysis and Recognition.- An Extensive Method to Detect the Image Digital Watermarking Based on the Known Template.- Fast Mode Decision Algorithm in H.263+/H.264 Intra Transcoder.- Binary Erasure Codes for Packet Transmission Subject to Correlated Erasures.- Image Desynchronization for Secure Collusion-Resilient Fingerprint in Compression Domain.- A Format-Compliant Encryption Framework for JPEG2000 Image Code-Streams in Broadcasting Applications.- Euclidean Distance Transform of Digital Images in Arbitrary Dimensions.- JPEG2000 Steganography Possibly Secure Against Histogram-Based Attack.- Perceptual Depth Estimation from a Single 2D Image Based on Visual Perception Theory.- A System for Generating Personalized Virtual News.- Image Fingerprinting Scheme for Print-and-Capture Model.- 16×16 Integer Cosine Transform for HD Video Coding.- Heegard-Berger Video Coding Using LMMSE Estimator.- Real-Time BSD-Driven Adaptation Along the Temporal Axis of H.264/AVC Bitstreams.- Optimal Image Watermark Decoding.- Diagonal Discrete Cosine Transforms for Image Coding.- Synthesizing Variational Direction and Scale Texture on Planar Region.- Fast Content-Based Image Retrieval Based on Equal-Average K-Nearest-Neighbor Search Schemes.- Characterizing User Behavior to Improve Quality of Streaming Service over P2P Networks.- Interacting Activity Recognition Using Hierarchical Durational-State Dynamic Bayesian Network.- Improving the Image Retrieval Results Via Topic Coverage Graph.- Relevance Feedback for Sketch Retrieval Based on Linear Programming Classification.- Hierarchical Motion-Compensated Frame Interpolation Based on the Pyramid Structure.- Varying Microphone Patterns for Meeting Speech Segmentation Using Spatial Audio Cues.- Region-Based Sub-pixel Motion Estimation from Noisy, Blurred, and Down-Sampled Sequences.- Differential Operation Based Palmprint Authentication for Multimedia Security.- A Broadcast Model for Web Image Annotation.- An Approach to the Compression of Residual Data with GPCA in Video Coding.- A Robust Approach for Object Recognition.- A Novel Method for Spoken Text Feature Extraction in Semantic Video Retrieval.- A Semantic Image Category for Structuring TV Broadcast Video Streams.- Markov Chain Monte Carlo Super-Resolution Image Reconstruction with Simultaneous Adaptation of the Prior Image Model.- Text Detection in Images Using Texture Feature from Strokes.- Robust Mandarin Speech Recognition for Car Navigation Interface.- GKDA: A Group-Based Key Distribution Algorithm for WiMAX MBS Security.- A Watermarking Algorithm for JPEG File.- SNR Scalability in H.264/AVC Using Data Partitioning.- A Real-Time XML-Based Adaptation System for Scalable Video Formats.- Generic, Scalable Multimedia Streaming and Delivery with Example Application for H.264/AVC.- Shape-Based Image Retrieval in Botanical Collections.- Macroblock Mode Decision Scheme for Fast Encoding in H.264/AVC.- A Mathematical Model for Interaction Analysis Between Multiview Video System and User.- Motion Composition of 3D Video.- EKM: An Efficient Key Management Scheme for Large-Scale Peer-to-Peer Media Streaming.- Using Earth Mover's Distance for Audio Clip Retrieval.- Streaming-Mode MB-Based Integral Image Techniques for Fast Multi-view Video Illumination Compensation.- A Motion Vector Predictor Architecture for AVS and MPEG-2 HDTV Decoder.- Inter-camera Coding of Multi-view Video Using Layered Depth Image Representation.- Optimal Priority Packetization with Multi-layer UEP for Video Streaming over Wireless Network.- A Multi-channel MAC Protocol with Dynamic Channel Allocation in CDMA Ad Hoc Networks.- Fuzzy Particle Swarm Optimization Clustering and Its Application to Image Clustering.- A New Fast Motion Estimation for H.