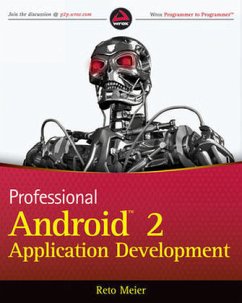 Produktdetails
Artikelnr. des Verlages: 14556552000
Seitenzahl: 576
Erscheinungstermin: März 2010
Englisch
Abmessung: 238mm x 187mm x 35mm
Gewicht: 974g
ISBN-13: 9780470565520
ISBN-10: 0470565527
Artikelnr.: 27135862
INTRODUCTION.
CHAPTER 1 Hello, Android.
CHAPTER 2 Getting Started.
CHAPTER 3 Creating Applications and Activities.
CHAPTER 4 Creating User Interfaces.
CHAPTER 5 Intents, Broadcast Receivers, Adapters, and the Internet.
CHAPTER 6 Files, Saving State, and Preferences.
CHAPTER 7 Databases and Content Providers.
CHAPTER 8 Maps, Geocoding, and Location-Based Services.
CHAPTER 9 Working in the Background.
CHAPTER 10 Invading the Phone-Top.
CHAPTER 11 Audio, Video, and Using the Camera.
CHAPTER 12 Telephony and SMS.
CHAPTER 13 Bluetooth, Networks, andWi-Fi.
CHAPTER 14 Sensors.
CHAPTER 15 Advanced Android Development.
INDEX.