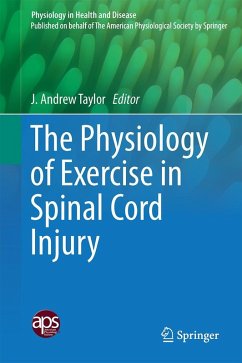 Produktdetails
Physiology in Health and Disease
Artikelnr. des Verlages: 978-1-4939-6662-2
1st ed. 2016
Erscheinungstermin: 14. Januar 2017
Englisch
Abmessung: 241mm x 160mm x 21mm
ISBN-13: 9781493966622
ISBN-10: 1493966626
Artikelnr.: 45574073
The Physiology of Exercise in Spinal Cord Injury (SCI): An Overview of the Limitations and Adaptations.- Physiology of Motor Deficits and the Potential of Motor Recovery after a Spinal Cord Injury.- Role of Activity in Defining Metabolic and Contractile Adaptations after SCI.- Respiratory System Responses to Exercise in Spinal Cord Injury.- Alterations in Cardiac Electrophysiology after Spinal Cord Injury and Implications for Exercise.- Cardiovascular Responses to Exercise in Spinal Cord Injury .- Thermoregulatory Considerations for the Performance of Exercise in SCI.- Increased Bone Fracture after SCI: Can Exercise Reduce Risk? .- Alterations in Body Composition after SCI and the Mitigating Role of Exercise.- Cardiometabolic Syndrome in SCI: The Role of Physical Deconditioning and Evidence-based Countermeasures.- The Effect of Acute and Chronic Exercise on Inflammatory Markers in SCI.- Role of Exercise in Alleviating Chronic Pain in SCI.- Autonomic Alterations after SCI: Implications for Exercise Performance.- Hybrid FES Exercise for Improved Fitness in SCI.