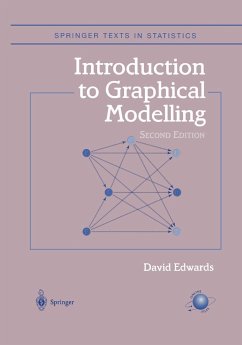 Andere Kunden interessierten sich
auch
für
From the reviews:

JOURNAL OF THE AMERICAN STATISTICAL ASSOCIATION

"This is a valuable book that should increase in value over time. It seems clear that in the future, statisticians will need to deal with larger, more complicated collections of data...Any statistician who is planning to tackle the changing nature of data collection in the 21st Century should know about graphical models. This book provides a great place to begin learning about them."

SIAM REVIEW

"...this is an important book for all concerned with the statistical analysis of multivariate data such as arise particularly, but not only, in observational studies in the medical and social sciences. In a broader context it gives a thoughtful introduction to an active topic of current research."

TECHNOMETRICS

"This book's strength is its accessibility. Numerous illustrations and example datasets are well integrated with the text...The examples are well chosen; I was particularly pleased that the author clearly treated datasets as interesting in their own right, not simply as a foil for demonstrating techniques...Edwards presents a clear, engaging introduction to graphical modeling that is very suitable as a first text and should stimulate readers to explore and use this methodology for their own data."