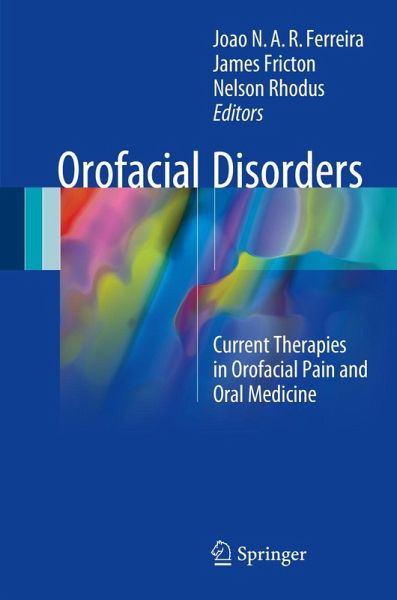 This cutting-edge book is a quick reference guide to the evidence-based evaluation, diagnosis, and management of the broad spectrum of orofacial disorders. Each chapter is devoted to a particular disease or disorder and presents advances in our understanding of the condition, the most recent evaluation and diagnostic strategies, and up-to-date treatment approaches. In addition, strategies for integration of care into routine dental practice are explained, and information provided on how to comprehensively diagnose and manage orofacial disorders. The coverage encompasses the latest technological advances in the field, such as novel pharmaceuticals, diagnostic tools, gene transfer techniques, radiotherapy modalities, and a vast array of interdisciplinary and multidisciplinary approaches including complementary and alternative therapies for orofacial disorders.Although the management of orofacial disorders is emerging as a distinct field of dentistry, many dentists and physicians are unfamiliar with recent advances in the care of patients with these disorders including orofacial pain, oral lesions and cancer, malodor, xerostomia, obstructive sleep apnea, bruxism and oral parafunctional behaviors, temporomandibular disorders, occlusal dysesthesias, orofacial neuropathic pains, and headaches. This book, written by world class experts, is deliberately geared to the level of understanding of a clinician. It will serve as an ideal evidence-based reference and source of specific clinical recommendations in daily practice.
Produktdetails
Best.Nr. des Verlages: 978-3-319-51507-6
1st ed. 2017
2017
Ausstattung/Bilder: 1st ed. 2017. 2017. xiii, 354 S. 14 SW-Abb., 57 Farbabb. 235 mm
Englisch
Abmessung: 241mm x 159mm x 22mm
Gewicht: 630g
ISBN-13: 9783319515076
ISBN-10: 3319515071
Best.Nr.: 47079941
Oral Cancer and Pre-malignant Lesions: Leukoplakia.- Etiology and Complications of Oral Cancer.- Orofacial Pain in Cancer Patients: Mechanisms and Management. Oral Mucosal Disease: Herpes Simplex.- Vesiculo- Bullous Lesions.- Candidiasis. Orofacial Disorders: Diagnosis and Management of Oral Parafunctional Behaviors.- Diagnosis and Treatment of Sleep Apnea and Snoring.- Neurosensory Disorders.- Diagnosis and Management of Malodor.- Orofacial Dystonias and Dyskinesias. Salivary Gland Dysfunction and Xeros: Etiology and Clinical Manifestations of Salivary Disorders.- Gene Transfer for Salivary Glands.- Treatment of Salivary Dysfunction in Aging Adults. Temporomandibular Disorders: Temporomandibular Joint Disorders.- Temporomandibular Muscle Disorders. Orofacial Pain Disorders: Diagnosis and Management of Non-dental tooth pain.- Diagnosis and Management of Trigeminal Neuropathic Pain and Orofacial Neuralgias.- Diagnosis and Management of Burning Mouth. Headache Management: Chronic Daily Headache.- Migraine.- Cluster and Facial Headache.- Migraine Variants. Complementary and Interdisciplinary Approaches in Personalized Pain Care: Interdisciplinary Orofacial Pain Management.- Complementary and Integrative Health Approaches in Pain Care.- Conducting a standard history and physical examination for Orofacial Disorders.- Personalized Care and Current Controversies in Orofacial Disorders.